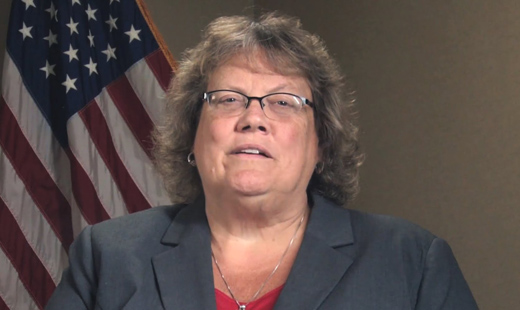 WASHINGTON – Colleen M. Kelley, the National Treasury Employees Union (NTEU) president for the last 16 years, will retire at the end of the union's convention this August, the union announced.
In a memo in March to local leaders of her 150,000-member union, Kelley said she wants to spend more time with her grandchildren in her home town of Pittsburgh. She also said the NTEU is "well-positioned" to elect a new president at the convention.
"I am proud of my NTEU career and the state of our union today… As much as I love my role and our union, I will not be seeking re-election to a 5th term as NTEU president," Kelley said. She also praised her local leaders, saying she is "in awe of" their daily work defending and advocating for their members.
Kelley's union is one of the larger federal workers' unions, along with the Government Employees (AFGE) and the two big postal workers' unions. In her time in office, Kelley has forged alliances with the others, and particularly with current AFGE President J. David Cox, on government workers' issues. NTEU is independent of both U.S. labor federations.
NTEU represents mostly Treasury Department workers, including IRS employees – the agency where Kelley got her start as a revenue agent. After serving as the Pittsburgh local's president, she joined the union's national staff, became executive vice president and then was elected president for the first time in 1999. She has served four terms.
Fighting particularly for the IRS workers, Kelley has made the point that short-staffing the agency – a constant under Republican-run Congresses – ultimately hurts the government as a whole, since it cuts down the pursuit of tax cheats and fraud and leaves billions of dollars of taxes uncollected. Her latest win was to stop a 2-day unpaid IRS furlough earlier this calendar year.
Besides ending the IRS program to outsource tax collections to unscrupulous private debt collectors, Kelley's NTEU also fought successfully in the courts for Homeland Security Department workers' collective bargaining rights and against the agency's tilted personnel system plans.
She's also worked with Cox in the constant campaign to rein in the use of expensive federally hired contractors, rather than unionized government workers. Kelley, Cox and other federal union leaders successfully lobbied for retroactive back pay for the hundreds of thousands of government workers sent home during the GOP-ordered 16-day government shutdown two years ago.
During Kelley's years as president, NTEU also grew by organizing Securities and Exchange Commission attorneys, Food and Drug Administration scientists, and financial regulators at several government agencies.
Photo: Colleen M. Kelley | NTEU/YouTube screenshot