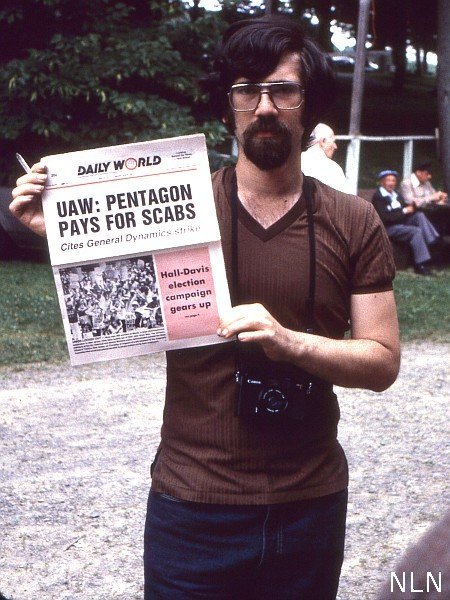 Kenneth J. BeSaw, longtime photographer for People's World, died at the end of November while recovering from back surgery. Further details were not available at press time.
BeSaw, 58, was born in Worthington, Ohio, near Columbus, and graduated in 1970 from Worthington High School. Early on he showed a passion and talent for shooting – cameras and guns.
He was a marksman on the shooting range, and a member of the National Rifle Association.
But it was his passion for photography and social justice that propelled him into the working-class movement for equality, democracy, peace and socialism.
"Forty years ago I was on welfare in Ohio, the result of physical disabilities," BeSaw recently wrote on his Flickr profile, entitled "Working Class Photos."
"The Ohio Department of Rehabilitation canceled my college grant after I switched my major to photography. They said that I would never be able to get a job as a photojournalist. For the past 30 years I have been the chief photographer for a national daily [and weekly]. Photographically I am into sports, people and architecture."
BeSaw joined the Communist Party USA and moved to Cleveland. In 1979, he moved to New York City and began work as a photographer for the People's World's predecessor, the Daily World, where in the era before digital photography, he developed photographs for the newspaper in a darkroom.
BeSaw had epilepsy and underwent experimental surgery some 10 years ago to relieve the seizures he had been plagued by his whole life. It was successful in stopping the seizures but he endured years of recovery, which he battled through heroically.
He found joy in the CPUSA and this newspaper, the movement, people and photography. He also found love in the 1990s when he met Susan Shifrin, also a long-time People's World staff member. They married in 1996. Shifrin-BeSaw died of cancer Jan. 5, 2001.
"Ken was the heart and soul of the World's photography," said editor Teresa Albano. "He had a unique eye, seeing how to capture the best about people, their hopes and dreams, in a picture. He also knew how to capture the dastardly conditions of capitalism, be it homelessness or hunger."
BeSaw also worked to get others involved in photography, coordinating the "Photo of the Week" feature, and writing a photography handbook.
He also took fundraising for the People's World very seriously. He was a staunch supporter of the rights of disabled people, and was a member of an epilepsy group. That's where he first raised money with a "bowl-a-thon." He applied the bowl-a-thon to the PW, saying you have to have fun while you raise money.
Other years he would collect "change" for "change." BeSaw raised hundreds of dollars singlehandedly for his favorite newspaper.
"Ken was a profound humanist," People's World website editor Joe Sims said. "He taught me and all his colleagues a lot about bringing out the best of people, and portraying all aspects of the human condition in the newspaper. He would say, 'We need more sports photos' and then he would go out and take them. Or he would say, 'People are interested in history and architecture. I have shots of the Brooklyn Bridge that would make a good feature.'"
While BeSaw had expressed some bittersweet feelings about ending the newsprint edition, he fully embraced going online and becoming a part of social networking, especially on Facebook and Flickr. Plus, he joined photo contests online and won an honorable mention from a Sigma "summer dreams" contest with his entry, "We Are America," taken at an immigrant rights rally.
Ken is survived by his brother and sister, nephew and cousins. A memorial is being planned for January in New York City at Unity Center.
Photo: Ken BeSaw at a Daily World fundraiser in Arrow Park, N.Y., circa 1984. Thomas Good/www.nextleftnotes.net.