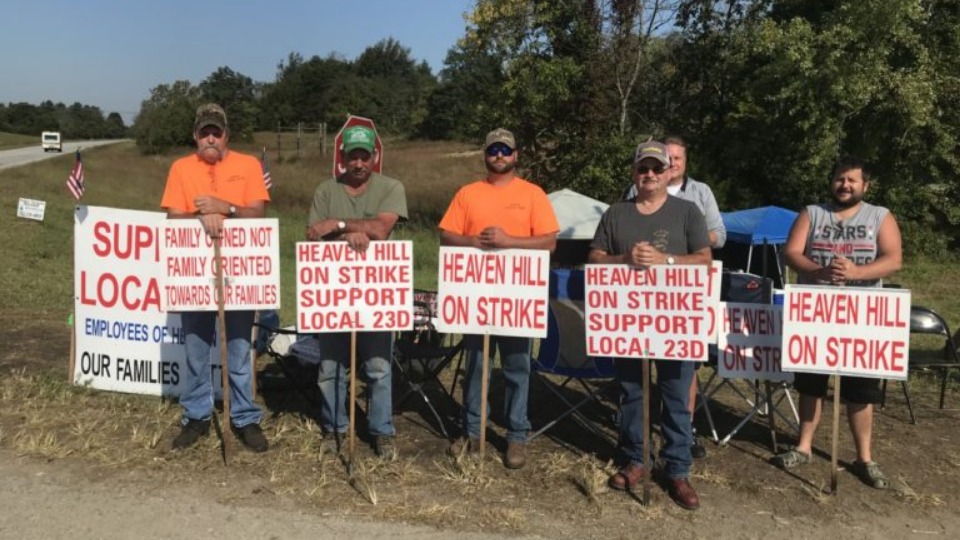 BARDSTOWN, Ky.—"A month-long strike at one of the country's biggest distilleries merits more national media attention than it has received," says Bill Londrigan, Kentucky State AFL-CIO president.
Members of United Food and Commercial Workers (UFCW) Local 23D have been walking picket lines at the historic Heaven Hill distillery in Bardstown since Sept. 11.
"So far, it hasn't gotten the publicity other large strikes have—like the one at Mondelez-Nabisco last month and the current strike at Kellogg's," Londrigan said. "Just because Bardstown is a little off the beaten path doesn't mean the strike doesn't deserve front-and-center attention. A lot of workers have been at this facility for many, many years. They feel like they are not getting fair treatment at this juncture and they are engaging in their right to strike."
Founded in 1935, Heaven Hill Distillers Inc. changed its name to Heaven Hill Brands in 2014. While the company is best known for its bourbon, it produces many brands of distilled spirit.
"We are encouraging people to consider other products until this dispute is resolved," Londrigan urged, adding, "Solidarity is really strong and, judging from the constant horn honking, hand waves and thumbs up the picketing workers are getting, people of Bardstown are very supportive of the striking workers. We are encouraging our union family to make contributions to local 23D's strike fund, to join the picket line, and to contact Heaven Hill through emails and other platforms to let them know you support the striking workers."
Management hasn't returned to the negotiating table with Local 23D, whose 420 members went on strike two days after 96% of the membership rejected the company's contract offer, according to the union.
"Heaven Hill distillery workers are standing up for a fair contract that protects good paying Kentucky jobs and keeps our economy and community strong," Local 23D President Matt Aubrey explained in a recent press statement. "Heaven Hill is threatening good jobs in our community by proposing a contract that makes cuts to overtime and threatens to divide its workers with unclear and potentially unfair scheduling…These hardworking Kentuckians have been speaking out to stop these cuts and protect these Kentucky distillery jobs that have supported our families for generations."
Company representatives met with the union on Sept. 27. A federal mediator urged another meeting for Sept. 29, but Heaven Hill didn't return to the bargaining table, according to the union's release.
In the statement, Aubrey went on further to explain the union's goals. "Our first priority is delivering a strong contract for these Kentucky workers. We are calling on Heaven Hill to work together with us now to help end this strike and make the critical investments needed to support good Kentucky jobs and keep our economy and community strong."
While the workers wait for a better contract Heaven Hill is enjoying a strong bottom line. As reported in In These Times, the company averages annual profits of over $500 million.
"Kentucky has been in the midst of a 'bourbon boom' for over a decade, which has served the distillery well," Ashlie D. Stevens wrote in Salon. "In June of this year, the company opened a new $19 million expanded visitor's center in anticipation of post-pandemic tourism."
In a letter from the distillery, obtained by Salon, it was stated that "the distillery recently terminated employee healthcare coverage and benefits due to the union contract expiration and resulting strike between UFCW Local 23D and Heaven Hill."
The letter went on to tell workers that their coverage would be reinstated as soon as "the work stoppage has ceased, concurrent with the ratification of the new contract."
Londrigan, state AFL-CIO Secretary-Treasurer Jeff Wiggins, and members of several different unions have joined picket lines. "We've had a tremendous amount of support from other unions," said 23D plant chair Larry Newton.
"This is a strike about family life," Wiggins said. "This is not a strike about money or benefits. This is a strike about your time at home with your family. The company wants to force [employees] to work seven days a week and not have any time off. So, it's about having some kind of family life, not just a work life. You don't go to work just to work. You go to work to support your family but you've got to have time off to be with your family."
Local 23D has negotiated with the company for six months. In July 2021, the union called for a federal mediator to join the process in order to help advance talks with the company.
DONATE to the Local 23D strike fund!

Checks may be mailed to:

Robert R. Greenwell

Secretary-Treasurer, UFCW Local 23D

596 Hunters Lane

Bardstown, Ky. 40004.

The phone number is 502 510-2606.