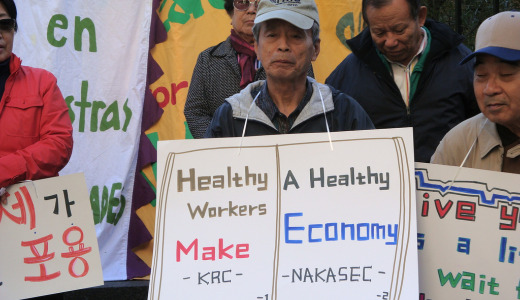 It's "crunch time" in California's Senate and Assembly, as the June 4 deadline approaches for bills to pass out of one house and start committee hearings in the other.
Among the flurry of bills are several that relate to California's implementation of national health care reform passed by Congress earlier this spring. All are expected to change as they pass through the other chamber and more details are known about requirements under the federal law. Commentators say experiences in California, with over 8 million uninsured residents, may be of special interest to other states as they, too, start to implement the new federal legislation.
Heading the list are bills that would establish a health insurance exchange. In the Senate, SB 900 would create the exchange within the California Health and Human Services Agency, and create the California Health Insurance Exchange Fund, to negotiate better prices and values for consumers in the exchange, according to a summary by the Health Access coalition.
SB 890 would set standards for basic health care services to be covered. It would make it easier for consumers to compare plans, by implementing many federal consumer protections early. It would also require more premium dollars to go to patient care, rather than profits.
In the Assembly, a similar measure, AB 1602, would create the California Cooperative Health Insurance Purchasing Exchange and would implement various federal reform provisions including letting children stay on their parents' health insurance to age 26. It would also end annual and lifetime limits on coverage.
Another important health reform-related measure is SB 1163, which would require health plans to state in writing their specific reasons for denying coverage or charging higher than standard rates.
Taking into account the Massachusetts insurers who raised rates once health insurance was required, and Anthem Blue Cross' attempt – later rescinded – to raise individual premiums in California by up to 39 percent, AB 2578 would require the state Department of Insurance or Department of Managed Care to approve any increases to premiums, co-pays, deductibles or other charges under a health plan.
Other measures would categorize plans according to comprehensiveness of coverage and require health plans to cover maternity services, and diagnosis and treatment of mental illness.
Patients with pre-existing conditions would benefit from legislation eliminating such exclusions for children, while other bills would levy a fee on insurers to support the state high risk pool, and enable to pool to seek federal funds to extend coverage to more Californians denied for pre-existing conditions.
Of interest to those disappointed when the "public option" disappeared from federal health care reform is SB 56, which would let county-organized health plans and other health benefits programs work together to create integrated networks of public health plans, subject to state legislation governing managed care plans.
Though Democratic legislators are spearheading the work to implement health care reform, Republican Gov. Arnold Schwarzenegger has broken with many fellow Republicans to support the national legislation, and his office is reportedly working with legislators on implementation.
But other Republicans are pointing to the possibility of repeal of national reform, if the balance of forces changes in Congress in November.
Meanwhile, health reform advocates including Health Care for America Now are urging Californians to call their legislators right away, expressing support for the measures, which face strong insurance industry opposition.
Photo: A rally organized by the Korean Resource Center in 2009. http://www.flickr.com/photos/krcla/4129891824/ cc 2.0