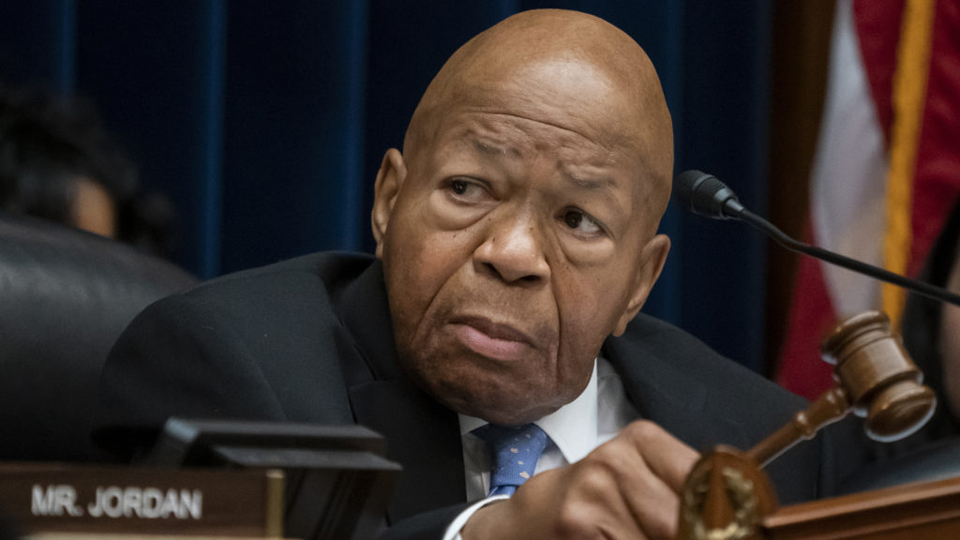 BALTIMORE—House Oversight Committee Chair Elijah Cummings, D-Md., a South Carolina sharecroppers' son who rose to head a key panel probing impeachable offenses by GOP President Donald Trump, died at 2:30 am on Oct. 17 at a hospice in his home town of Baltimore. The 68-year-old lawmaker suffered complications from a variety of diseases, his office said.
Condolences and praise poured in from across the political spectrum, including from Trump, who – as usual, in tweets – had vilified Cummings, who is African-American, and his majority-black district. Trump called the district, centered on majority-minority Baltimore City, "rat-infested" and crime-ridden and declared nobody should want to live there.
Trump also had denigrated Cummings' oversight, and said his panel should stick to simple issues – and not impeachment or probing the smashing of families seeking asylum at the U.S.-Mexico border. Trump also ordered aides to refuse to testify in the Oversight panel's impeachment  hearings.
But after Cummings died, Trump tweeted Congress lost a valuable member.
Cummings, a veteran of the civil rights movement, shrugged it all off and kept going. And his successor as Oversight Committee chair, Rep. Carolyn Maloney, D-N.Y., is just as strong on probing Trump as Cummings was.
In 23 years in the House and before that in the Maryland legislature, Cummings also strongly backed workers and unions. His lifetime "right" voting score with the AFL-CIO was 99% and federation President Richard Trumka paid tribute to Cummings in a tweet.
"Very sad to hear of the passing of Congressman Elijah Cummings. The city of Baltimore, state of Maryland and the entire country has lost a champion for working people. Sending condolences to all those who loved the Civil Rights icon," Trumka tweeted.
A typical tribute came from the Congressional Black Caucus. Cummings was a long-time member.
"As a lifelong advocate for justice, equality, and the truth, Elijah Cummings was the true definition of a leader and his commitment to civility and humanity were invaluable in times such as these. To many, Elijah was a friend and mentor, but to the members of the CBC, Elijah was family," the CBC said.
"Elijah knew firsthand the challenges of discrimination, segregation, and poverty. But at the young age of 11, he stepped into his calling by helping to integrate a local swimming pool while being attacked with bottles and rocks. This only strengthened his commitment to ensuring his community overcame these obstacles. Once elected to the Maryland House of Delegates, Elijah became the youngest chairman of the Legislative Black Caucus and the first African American to serve as speaker pro tempore."
Cummings used his Oversight panel "gavel to speak truth to power on behalf of the American people. Moreover, his fairness and integrity were undeniable." As a former CBC chair and current member, "Elijah worked fiercely to uplift and empower Black people. He shared his wisdom and strength in his ongoing efforts to ensure Black Americans received equal rights and protection under the law. Simply put, Elijah was a civil rights icon.
"The Congressional Black Caucus will continue his fight and honor his legacy by fearlessly seeking the truth and ensuring every person in this country has the opportunity to achieve the American dream."
Maloney added her praise to the tributes, and her prior actions make it clear she'll carry on the Oversight panel's impeachment investigation of Trump.
"Today, our nation has lost a true leader and pioneer, and I have lost a dear friend and mentor. You will be missed, Rep. Cummings," she tweeted.
"In an era where politics are plagued by coarseness and personal attacks, Elijah represented grace, dignity and empathy under the most trying of circumstances," Maloney added in a statement. "His legacy – his fight for fairness, justice and equality – should be an inspiration to us all."
Months before, Maloney made her pro-impeachment position clear, and she followed it up just weeks ago at a town hall in her New York City congressional district. The town hall was entirely devoted to impeachment, and Maloney's guest speaker was retired Rep. Elizabeth Holtzman, D-N.Y., one of the last surviving members of the 1974 House Judiciary Committee which impeached Richard Nixon.