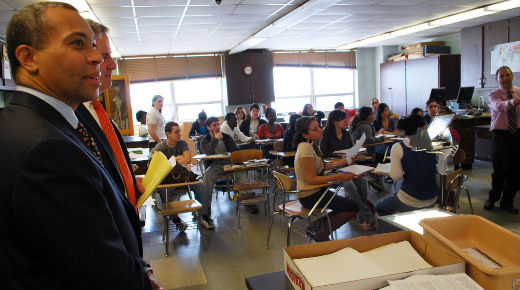 WORCESTER, Mass. – Massachusetts voters rejected the anti-incumbent, pro-Republican wave that swept much of the country on Tuesday. They sent all their Democratic congressmembers back to Washington – and re-elected Democratic Gove. Deval Patrick, a key Obama ally.
The state's elected officials "have had to make some very difficult choices that many working families have not been enthusiastic to accept," said Robert J. Haynes, president of the Massachusetts AFL-CIO. "However, the union families of Massachusetts understood what the alternatives were, and they chose the constitutional officers and congressional delegation that shared their values on important issues affecting workers."
Gov. Patrick defeated GOP challenger Charles Baker by a 49 percent – 42 percent margin. His areas of strength were in liberal western Massachusetts, Boston suburbs, and larger, more multi-ethnic, labor-heavy cities such as Boston, Worcester, Springfield,
The day after his victory, Patrick, who is African American, told reporters that he was proud of the history "we have already made" and "the history we are going to make."
The Massachusetts governor did just that, earlier today, in nominating Roderick L. Ireland for chief justice of the state's Supreme Judicial Court. Ireland would be the first African American to hold that position.
Patrick's administration has made a point of reaching outside the state capital, Boston. Many west of Interstate 95 – the highway that loops around the city – have, in the past, chafed at the political weight Boston has had in Massachusetts politics at the expense of the rest of the state. Roderick Ireland is from Springfield, an industrial city in western Massachusetts, and Timothy Murray, Patrick's lieutenant governor, is the former mayor of Worcester, in central Massachusetts.
While not much has been said nationally of Patrick's victory on Tuesday, a loss would have been seen as a knock for President Obama.
As was the case elsewhere, the labor movement played a tremendous role in the elections in Massachusetts.
"These decisive victories for Democrats in Massachusetts would not have been possible without the labor movement and the tireless work of thousands of our members talking to each other on the phones, at work, and at home," Haynes said.
In the days leading up to the election, Bay State labor volunteers called over 50,000 union workers and visited 30,000 homes.
Relations between the governor and organized labor have not always been without friction. "It has been loud and clear that unions and the families we represent have not agreed with Governor Patrick on everything," Haynes said when his federation endorsed the governor earlier in the year. "But we want to be even louder and crystal clear that we agree with him on the important things, chief among them the values we share about the role of government."
Aside from labor, the Patrick-Murray campaign was able to mobilize thousands of volunteers who, in the words of the lieutenant governor, went "door-to-door, friend-to-friend, neighbor-to-neighbor."
The campaign highlighted the administration's signature achievements, including the creation of 40,000 new jobs.
Patrick, though he has advocated for some charter schools, has strong support from advocates of public education.
"Despite the national recession and reduced revenue," said Massachusetts Teachers Association President Paul Toner, "Governor Patrick has always made education and students a top priority. He also treats educators respectfully and listens to our views when he's making education policies."
During his first year, Patrick directed funds towards poor schools around the state. Students and parents in Worcester, for example, complained for years about the city's North High School, which was overcrowded and run down. Now a new, sprawling North High is being built.
Like Obama, Patrick, only the second elected Black governor of any U.S. state, came out of Chicago and was educated in law at Harvard University.
Obama and Patrick are friends and allies – some wondered if Obama would tap the Massachusetts governor for a position in his Cabinet after the 2008 elections – and are widely seen to be part of the same mold. Patrick has acted as a speechwriter for Obama, and his 2006 campaign for governor, in which he used his website in conjunction with an on-the-ground army of volunteers, was seen by many as a predecessor of Obama's widely-hailed campaign for president.
Given their similarities, a loss by Patrick would have been seen as a bad portent for Obama's 2012 election bid.
Photo: Gov. Deval Patrick visits the old North High School in Worcester, Mass. Office of Gov. Patrick // CC BY-NC-SA 2.0