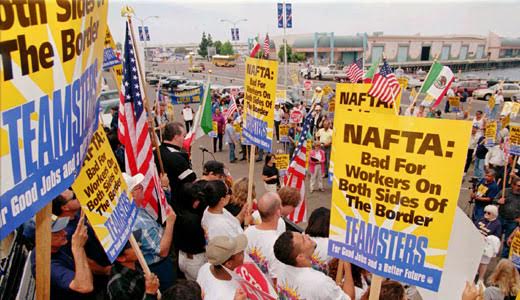 WASHINGTON (PAI) — The long-running saga of the controversial Keystone XL oil pipeline's northern leg, which saw building trades unions campaigning for it, and other unions saying it would add to greenhouse gases and global warming — opposing it, continues.
That's because TransCanada, its sponsor, sued in federal court in Houston to overturn the federal rejection of Keystone. Separately, it used NAFTA to seek $15 billion in damages for that pipeline denial. TransCanada wrote off $1.8 billion-$2 billion in Keystone losses in 2015.
The joint filings on Jan. 6 drew a mixed reaction: Environmentalists scorned the suits. Tom Owens, communications director for North America's Building Trades — the old AFL-CIO Building and Construction Trades Department — said his department declined to comment.
After seven years of review, President Obama decided late last year to reject TransCanada's permit application for Keystone XL's northern leg, from the Alberta, Canada-Montana border to Nebraska. Its southern leg, to oil refineries on the Texas Gulf Coast, is already built and carrying oil.
Building trades unions, including the Teamsters, the Operating Engineers and the Laborers, signed a project labor agreement with TransCanada to have union workers construct the pipeline. The building trades calculated Keystone would 40,000 jobs over two years.
Other unions, led by the National Nurses United, denounced Keystone's environmental damage, due to emissions caused by extraction of the 830,000 daily barrels of "dirty oil" daily from Albertan tar sands to be pumped through the pipeline, and oil spill accidents. Those unions said far more construction workers would be better employed in other, safer, projects.
In rejecting it, Obama said Keystone foes overemphasized its environmental damage, while backers overstated its job numbers. But he also said then that the U.S. should not approve a pipeline to carry "dirty oil" just before an international conference on global warming.
His stand led TransCanada to tell the court in Houston that Obama's rejection was unconstitutional and "perverse." Congress, not Obama, has power under the U.S. Constitution "to regulate interstate and foreign commerce," TransCanada said. And Congress, it noted, voted for Keystone. Obama vetoed that bill.
Regardless of what happens in court, TransCanada also used NAFTA, the jobs-destroying 22-year-old U.S.-Canada-Mexico "free trade" pact that is a model for such succeeding pacts, including the controversial and pending Trans-Pacific Partnership (TPP).
"TransCanada has been unjustly deprived of the value of its multi-billion dollar investment by the U.S. administration's actions," TransCanada's NAFTA complaint says. "TransCanada has invested billions of dollars in assets that have now been rendered useless for its intended purpose, specifically the transport of Canadian and American oil."
Like the TPP, NAFTA has a mechanism where corporations can sue for damages if a government action-federal, state or local-cuts into present or future profits. The TPP has secret trade courts, one of many reasons workers and unions are taking on Obama and opposing the TPP. But under NAFTA, Keystone's complaint against Obama, which seeks $15 billion in damages, went to U.S. government officials.
Photo: Some 200+ Teamsters protest NAFTA trucking regulations. | Denis Poroy/AP