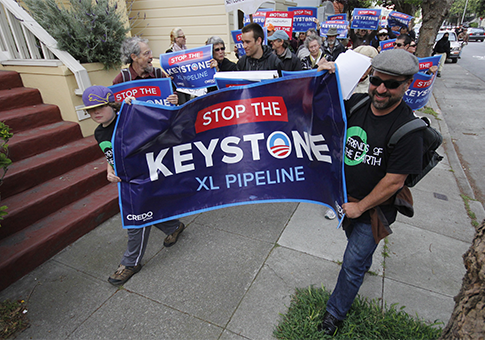 Legislation approving the controversial Keystone XL pipeline has received 45 votes by Republicans in the Senate, with another 14 from Democrats, meaning the bill needs only one more to find its way to President Obama's desk. Sen. Mary Landrieu, D-La., said she "feels very comfortable" with the bill's chances for Senate approval; meanwhile, this is causing nothing but panic for environmentalists and indigenous people, including South Dakota's Rosebud Sioux Tribe, who are calling Congressional approval of the project "an act of war."
Many activists fighting against Keystone are expecting – or hoping – that if the bill does get its 60 votes, Obama will simply veto it anyway. The President said during a news conference on Nov. 15 in Yangon, Burma that he didn't want Congress to interfere in the State Department's ongoing consideration of the project, leading many to believe that he will, in fact, dismiss the bill. "Understand what the [Keystone XL] project is," Obama clarified. "It is providing the ability of Canada to pump their oil, send it through our land, down to the Gulf, where it will be sold everywhere else."
The Senate was hoping to get their 60th vote from Sen. Angus King, I-Maine, but he said today that he would vote against it, remarking, "Congress is not – nor should it be – in the business of legislating the approval or disapproval of a construction project." King's response must leave hopefuls in the Senate wondering whether they will able to secure their final vote.
As it passes through U.S. land, however, it will endanger everything in its path. And according to Rosebud Sioux president Cyril Scott, it will violate the U.S. government's responsibility to request approval from his tribe for a project that crosses Sioux territory. "Did I declare war on the Keystone pipeline?" said Scott. "Hell yeah, I did. They will not cross our treaty lands." He said he would be arriving in D.C. today, where he plans to "rattle the doors" and point out that the pipeline will cross the Ogallala Aquifer, one of North America's largest fresh water sources. He said he will "talk to every senator and anybody else who will talk to me. I will tell them, 'it's not a matter of if the pipeline will contaminate the aquifer, but when.'"
"The U.S. government does not consult us," he added, underscoring the fact that all of his tribe's concerns regarding this matter have been brought to the Department of Interior and the Department of State – and promptly ignored. "We have a sovereign nation. We have our own constitution and laws here. But they violated my people's treaty rights once again." In the coming weeks, Scott will help convene a meeting of all tribes that are part of the Great Sioux Nation, in order to discuss how best to combat Keystone XL, especially if President Obama opts to approve the bill. "When I was elected, I said I would protect [the tribe]. I have that obligation not only as president, but as a warrior of the tribe."
Though Republicans and some Democrats continue to tout the project as a jobs creator, many labor unions believe this is a misguided and destructive bill. Five unions in particular – National Nurses United (NNU), SEIU Health Care Workers Local 1199, the Amalgamated Transit Union, New York State Nurses Association, and National Domestic Workers Alliance – have released a joint statement regarding the legislation, in which they state, "We are opposed to the Keystone XL pipeline. If fully constructed, it will bring dirty tar sands oil through the U.S. and to the global oil market at a time when we should be drawing the line against the most carbon polluting fossil fuel in order to protect public health, defend the rights of farmers, ranchers, and native communities, and avoid out of control levels of global warming and climate instability.
"Climate change is wreaking havoc," and "Keystone XL's tar sands oil, with its thick, dirty, corrosive properties, poses a clear and present danger to public health. Federal policy should be guided by the precautionary principle and must uphold public health and safety above all else." The unions add, "we are for jobs," but remind people that the pipeline's "job numbers claimed by the oil industry and its backers in Congress are not based on sound research." Instead, "many thousands of jobs can be created in energy conservation, upgrading the grid, maintaining and expanding public transportation – jobs that help us reduce air pollution and greenhouse gas emissions, and improve energy efficiency."
In its final environmental assessment of the pipeline, the State Department noted in the Jan. 2014 report that it would not significantly worsen greenhouse gas emissions. For many, this is a moot point; such a statement does not address the core concern that anti-Keystone groups share, which is that the project is an accident – or even a series of accidents – waiting to happen, and both indigenous people and sensitive ecosystems will pay the price.
At this year's unprecedented People's Climate March in New York City, many activists braced themselves for the likelihood that the pipeline bill would get congressional approval. The bill's chances, of course, were only strengthened by the recent Republican takeover of the Senate. At the march, Rosebud Sioux tribe member Shane Red Hawk told the People's World, "Once they start building this pipeline, that's it. This is going to hit us and hurt us on many levels."
"This is an atrocity against all humans," Cyril Scott declared. If the pipeline contaminates their local water sources, he said, "We can't drink. We can't grow crops. Where are we going to get our water? Congress? We have so much to lose here."
Photo: AP