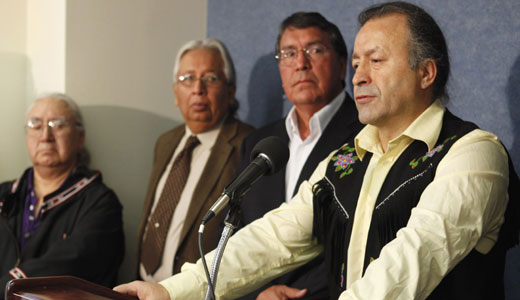 After President Obama endorsed a southern portion of the Keystone XL pipeline on Mar. 22 (which would carry oil from Cushing to Port Arthur, Texas), Native American activists in Okalahoma expressed outrage at the news. They claim it will affect sacred grounds and artifacts in Texas, as well as be a threat to the environment.
Obama discussed the pipeline during a speech in Cushing, Okla.; the Native Americans were forced by local authorities to hold their protest in a caged enclosure erected in Memorial Park, rather than at the speech itself.
The protesters were insulted at this move to put distance between the President and their demonstration, which they felt was an attack on their freedom of speech, according to the Global Justice Ecology Project.
"A lot of tribal councils and Indian businesses struggle to find a balance between economic resources and our inherited responsibilites for the Earth," said Native American actor and activist Richard Ray Whitman. The question to keep in mind, he added, is, "How will the decisions we make now affect coming generations?"
Marty Cobenais, of the Indigenous Environmental Network, felt that Obama's fast-tracking of "a project that will desecrate known sacred sites and artifacts is a real disappointment and betrayal.
"Tar sands is devastating First Nation communities in Canada already and now they want to bring that environmental, health, and social devastation to U.S. tribes."
In backing the revised plan for Keystone XL, Obama sided with TransCanada executives, said Common Dreams. A major concern of activists is that the designated path for the pipeline will intrude upon areas of land important to indigenous people, and affect them – and the land itself – negatively.
Many "Natives in Canada live downstream from toxic tar sands mines," said activist Earl Hatley, "and they are experiencing spikes in colon, liver, blood, and bile-duct cancers, which the Canadian government and oil companies simply ignore. And now they want to pipe these tar sands through the heart of Indian country, bulldozing gravesites and ripping out our heritage."
To back up such a statement, they point to studies conducted by the Oklahoma Archaeological Survey, which found 88 archaeological sites and 34 historic structures that Keystone XL put at risk. TransCanada was asked to reroute only around a small portion of these, however – leaving the rest (93 sites) to be potentially decimated.
Though the protesters have asked for a list of those sites – and to oversee operations that might threaten important grounds, neither request has been honored, or even acknowledged.
But the protesters pointed out that not only is this a terrible assault on their heritage, but also on nature: "The Ogallala Aquifier is not the only source of water in the area," Rosemary Crawford, Project Manager for the Center for Energy Matters, pointed out. "Tar sands pipelines have a terrible safety record, and leaks are inevitable."
"We can't stop global warming with more fossil fuel pipelines," she concluded. "The people who voted for this President did so believing he would help us address the global environmental catastrophe that our pollution is creating. He said he would free us from "the tyranny of oil." Today that campaign promise has been trampled."
Photo: Native Americans and First Nation leaders speak about concerns over the Keystone XL pipeline. Jacquelyn Martin/AP