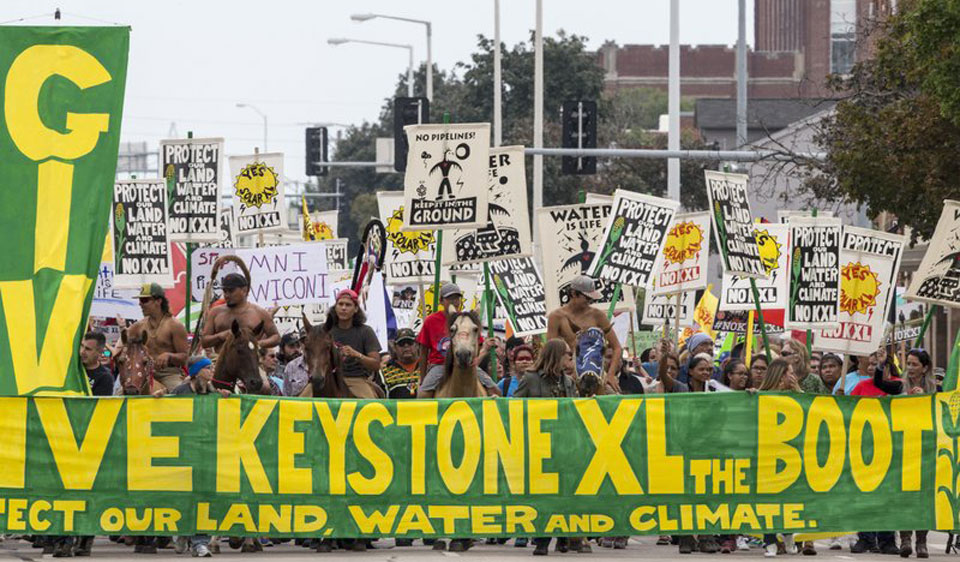 CALGARY, Alberta—The energy firm that has lobbied for more than a decade to build the entire Keystone XL pipeline all the way from the Montana-Alberta border to Gulf Coast refineries in the U.S. formally abandoned the last segment on June 11.
The decision by TC Energy means that segment, a diagonal leg from the border to Steele City, Neb., will not be built. It also means the end of a long Project Labor Agreement between TC Energy and six U.S. building trades unions, including the Teamsters, the Laborers and the Operating Engineers, mandating union workers would build the pipeline.
Members of the incredibly diverse coalition of groups that fought long and hard against the project declared victory and celebrated from coast to coast yesterday the successful end to the long struggle with  TC Energy and lawmakers who backed them on Keystone.
"For 13 years, an international movement of frontline communities in the U.S. and Canada, Indigenous leaders, and environmentalists fought back against this terrible proposed project at every turn," the Sierra Club said.
"Today, we can say yet again, that our efforts were a resounding success. The end of Keystone XL is a testament to what we can accomplish when we come together with the shared goal of protecting our communities, our clean water, and the climate.
"This is a major victory for our movement, and it won't be the last. We will continue to work tirelessly to restore the right of every community to clean air, clean water, and a sustainable, healthy climate, starting by making sure the destructive Line 3 and Dakota Access pipelines meet the same fate as Keystone XL.
"People just put their bodies on the line to stop Enbridge's toxic Line 3 tar sands oil pipeline, and were met with a brutal and militarized response," it said. The Enbridge line traverses Northern Minnesota.
Construction of Keystone exposed disagreement within the union movement. Building trades unions lined up for it but unions worried about carbon emissions—including National Nurses United and both transit unions—opposed it.
TC Energy's decision was foreshadowed when Democratic President Joe Biden, on his first day in the Oval Office, yanked the federal permit for the cross-border crossing for Keystone. Environmental groups cheered, since they opposed Keystone because it would carry 830,000 barrels daily of "dirty" Albertan crude oil to the refineries.
Given the potential for oil spills fouling groundwaters and underground aquifers and the fact the "dirty" oil's extraction would contribute to greenhouse gases that cause global warming, the green groups and Native Americans—whose groundwaters were threatened—backed Biden's decision.
TC Energy told Reuters it would consult with its partner, the Albertan provincial government, on what to do next and how to "gracefully exit."