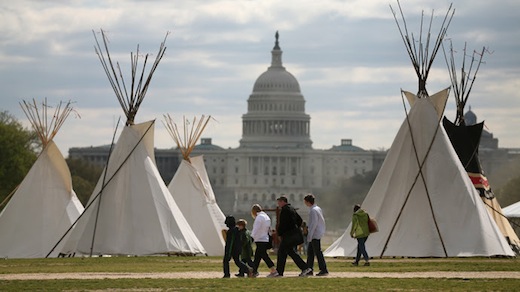 WASHINGTON, D.C. – In a six-day event here called "Reject and Protect", thousands of protesters marched against the Keystone XL pipeline between Apr. 22 and 27. The protests were launched by the Cowboy and Indian Alliance, a coalition of ranchers, farmers, and Native American communities whose land will be used for the pipeline. They are aimed at urging President Obama, and the U.S. State Department (which must approve projects that cross borders), to cancel the project.
The $5.4 billion project, which represents the dirtiest, least efficient kind of oil development, would pump dirty tarsands oil from Alberta, Canada through the U.S. to Texas refineries. The oil would then mostly be exported to world oil markets.
TransCanada Corporation, the Calgary-based company that wants to build the pipeline, has touted the project of being in "the national interest of America and a strong majority of Americans and Congress," according to CEO and President Russ Girling.
Despite Girling's claims, the project has been called "the carbon bomb," and its completion would likely take a giant step towards the two-degree rise in global temperatures that climate scientists identify as a cataclysmic turning point in human-caused climate change.
The event began on Earth Day (Apr. 22), as members of the Cowboy and Indian Alliance traversed downtown D.C. on horseback and set up camp with traditional teepees on the National Mall near the White House. The encampment included a wide range of events, including water ceremonies, music, sharing stories, documentary shows, and flash-mob round dancing. Saturday, however, was planned as the most important day of the week: On that day, about 5,000 protesters loudly said "No," to the proposed pipeline, and called on the president to "protect our sacred land and water."
A statement on the Reject and Protect website said, "In the American imagination, cowboys and Indians are still at odds. However, in reality, opposition to the Keystone XL tarsands pipeline has brought communities together like few causes in our history. Tribes, farmers, and ranchers are all people of the land, who consider it their duty as stewards to conserve the land and protect the water for future generations."
"We're here to show Obama, to show Washington D.C. the very faces of the people that the decision of the KXL pipeline represents," activist Dallas Goldtooth told a crowd on the mall, as cited by ABC. "These people represent families, they represent communities, they represent entire nations, so they're here to bring their stories here to say no to the Keystone XL pipeline and to all pipelines."
Canada's oil industry applied to build the pipeline several years ago, but it still needs to get the green light from Washington. Last week, the White House postponed the decision on Keystone XL. Lawsuits filed in Nebraska by both farmers and Native people must be settled before moving forward. Any state that the pipeline runs through can reject it.
TransCanada said it was "extremely disappointed and frustrated with yet another delay."
On the other hand, Jim Sconyers, president of the W. Va. Sierra Club, hailed the delay as a "victory for serious review of the environmental risks of carbon-based energy, and the need to aggressively change course toward renewables, before it's too late."
On May 17, The Sierra Club is organizing a National Day of Action to say No to KXL and "other dirty fuel projects," according to 350.org. The website says in the next few weeks "we will need to stand up again as big oil tries to keep pushing Keystone XL," adding, "With President Obama pushing back a decision on the pipeline for perhaps a year, the immediate next step is to keep Congress from moving it forward. Congressional votes on Keystone XL are likely coming up soon, and in states where senators are on the fence, folks are already gearing up to encourage them to vote no on the pipeline."
You can visit Bold Nebraska's PipelineFighters.org, to send a handwritten note to President Obama, urging him "to make his mark on history by rejecting Keystone XL."
Photo: Activists with the Cowboy and Indian Alliance set up tipis on the National Mall as part of a six-day climate change protest. (Gayle Becker)