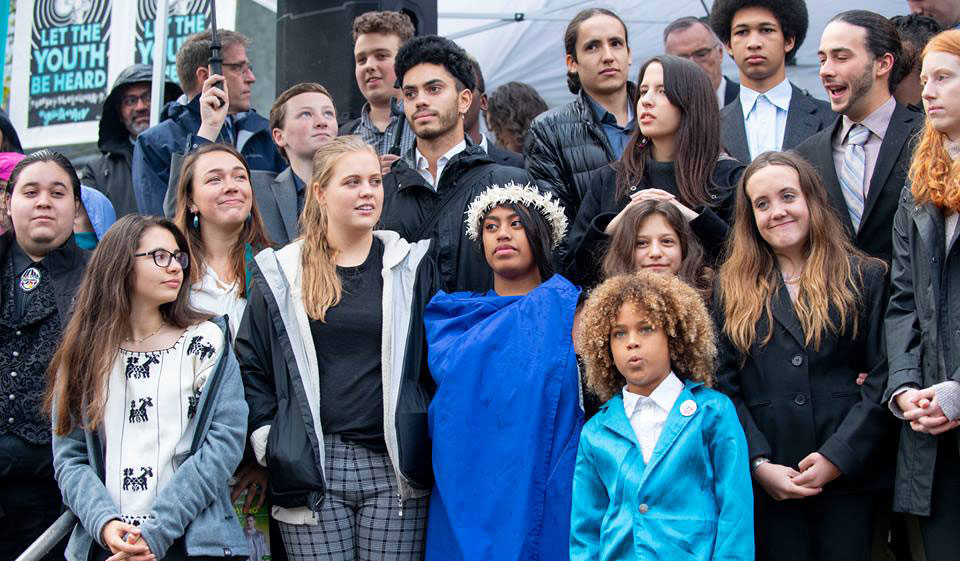 PORTLAND, Ore.—Even an 11-year-old kid is suing Donald Trump. Or, to be more precise, Levi D., an 11-year-old African-American boy who lives on a barrier island off Florida's coast, is one of 21 young people, ranging from him up to three 21-year-olds, suing Trump to get him to move against climate change, rather than worsen it.
And federal judges in Portland and San Francisco are willing to listen to their plea. Meanwhile, the U.S. Supreme Court, on Nov. 2, tossed out the Trump government's latest try at stopping their case.
"I work hard to protect the environment and animals near my home," says Levi, a Satellite Beach, Fla., resident whose last name was deleted by the case's sponsors, Our Children's Trust, because of his youth.
"I want my government to work hard to protect my future and the future of the animals and ecosystems in our country."
Levi's home was threatened by Hurricane Matthew and the nearby ocean is rife with fish-killing aquatic life-threatening "red algae" blooms. The Trump government's encouragement of fossil fuels will only make things worse, the youngsters and their adult sponsors in the Portland-based group believe.
"You have to find the way of nature," he adds. He's also been telling his neighbors about climate change's risk to them.
The kids and their adult backers point out the U.S. Constitution gives the government the duty to protect people's lives, liberty, and property. "Property rights," their suit declares, include their right to grow up without being imperiled by climate change. That's what the kids and the group say Trump's government is doing with its fossil fuels promotion and its opposition to acting on global warming.
Their case, Juliana v U.S., started in federal court in Portland three years ago, after the Republican-run Congress resolutely refused to do anything about climate change, and before Trump, a climate change denier, took power.
It's been kicking around in U.S. District Judge Ann Aiken's court in Portland, and the 9th U.S. Circuit Court of Appeals in San Francisco, ever since. Both courts are willing to let the kids go ahead, and the circuit court reaffirmed that stand the same day the justices ruled.
The plaintiffs originally sued the fossil fuels industry as well as the feds. In 2016, Aiken let the companies out of the case but kept the feds in. Repeated delays, due to objections from Trump's EPA, have kept the trial of the kids' case from even starting. It was scheduled for Oct. 29 in Portland. Now it may occur in November.
"Exercising my 'reasoned judgment,' I have no doubt the right to a climate system capable of sustaining human life is fundamental to a free and ordered society," U.S. District Judge Aiken wrote in one of her prior pre-trial rulings.
The Trump EPA's latest try to toss the case, by denying the kids what lawyers call a "writ of mandamus," lost at the High Court, 7-2, on Nov. 2. Without that writ, the kids can't sue. In July, the justices rejected Trump's first try at stopping the case before it got to trial, 9-0.
"The youth of our nation won an important decision today from the Supreme Court that shows even the most powerful government in the world must follow the rules and process of litigation in our democracy. We have asked the District Court for an immediate status conference to get Juliana v U.S. back on track for trial in the next week," said Julia Olson, executive director and co-counsel for Our Children's Trust.
The kids aren't interested in the legalisms. They want a clean climate to grow up in. Trump, they said, doesn't.
Vic Barrett, a 19-year-old environmental activist from White Plains, N.Y., said her home lost power and schools and transportation shut down due to the damage from Hurricane Sandy—damage increased by climate change. It produces rising sea levels and storm surges, such as in the hurricane, which devastated much of the metro New York City area.
Sophie Kivlehan's hometown of Allentown, Pa., is known for coal and steel production, not hurricanes and tornadoes. But as the Earth's climate has warmed up, Allentown has suffered from both, says the 20-year-old granddaughter of a climate scientist.
Sandy—the same hurricane that hit Barrett's house—is one of many "extreme weather events" which forced Kivlehan to miss school in the last several years. Ever-more-severe hailstorms have damaged her house, and her street frequently floods. And Allentown now gets frequent tornado warnings.
"Climate change will not only harm me but will also harm the entire fabric of human civilization and all living things on Earth I cherish and rely on," Kivlehan told Our Children's Trust.
Tia Hutton, a 21-year-old from Bend, Ore., loves to Nordic ski. Thanks to climate change, for the last several years, she couldn't. Bend received record low snowfall and record high drought. Without snow, you can't ski. She discovered the link to the warming climate, and then law professor Mary Wood told her about the lawsuit against the government.
"I didn't realize my capacity to be heard in the political system growing up, and I assumed the government had my best interest in mind," Tia told the group. "This is not always the case, and I wish I had known sooner what I could have done."