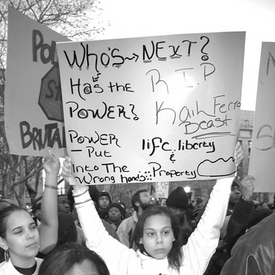 NEW YORK — "No justice, no peace! No justice, no peace!" protesters chanted Dec. 6 as they rallied in Manhattan's Foley Square. The event was planned months in advance to bring attention to the issue of police brutality in New York City. But following the shooting death of groom-to-be 23-year-old Sean Bell, the event took on new meaning and urgency, marking the beginning of a series of actions that will take place across the city in the coming weeks.
Undercover police fired 50 shots outside the Kalua Cabaret in Queens on Nov. 25, killing Bell and wounding Joseph Guzman and Trent Benefield. This was not the first time NYPD officers have been "excessive" in the use of their weapons and deadly force. The similarities in police conduct and the department's response to other cases of police shooting of unarmed individuals are striking. Below are some of these similarities.
Police identification
When the plainclothes officers tried to stop Bell and his friends from leaving the club where his bachelor party took place, they allegedly shouted, "Raise your hands," while trying to pin them in the street with their car. It is unclear if they identified themselves as police officers. The Bell family said they did not identify themselves. This would explain why Sean Bell's car almost hit one of the officers and struck the unmarked police car. If the young men believed they were being attacked by unknown assailants, they would have tried to defend themselves or flee.
This is what occurred with Freddie Rivera, who was 17 when he was killed by a police officer who did not identify himself in August 1998. He was shot with dumdum bullets (bullets that expand on impact) in his chest. Rivera was attempting to flee.
Another such case is Jose Antonio Sanchez, a restaurant worker who tried to break up a fight between two customers, not knowing that one customer was an undercover cop trying to arrest the other one. The undercover officer chased Sanchez around the restaurant into the kitchen. The officer claimed Sanchez lunged at him with a knife. The officer then shot him dead. Witnesses stated that Sanchez did not lunge at the officer and that the officer did not identify himself.
Phantom weapons
The police who killed Sean Bell said through spokespeople they believed he had a weapon in his car. No such weapon was ever found. Unfortunately, this is all too common in cases where victims have been shot.
Police describe many of these scenarios as victims "reaching" or "making a motion," assuming they — often times Black or Latino young men — have a weapon. Or, police say victims are simply holding an object that they mistook for a gun, as in the infamous case of Amadou Diallo, an African immigrant living in the Bronx who was shot 41 times in February 1999 for holding his wallet. Or take another case: Eric Pitt and Donald Taylor were shot dead in their car when they were stopped by police. Police opened fire on them after one officer suspected they were "reaching for something."
Contagious shooting
The 50 shots poured into Bell's car and the 41 shots that took Diallo's life are notorious examples of police "overshooting." As outrageous as these numbers seem, they are not the record. That unfortunate distinction goes to an incident involving Wen Ping Hsu, who during a gunbattle with police in December 1994 was shot at 250 times. In the crossfire, an innocent man, Laakhraj Dalipram, whose car Wen was trying to carjack, was killed.
Question swirl at these numbers. How can police fire 250 or even 50 shots? The term used for such events is "contagious shooting." When one police officer opens fire others follow suit, believing their lives to be in danger. The 9-mm handgun that is standard police issue can deliver up to 18 bullets, which also leads to contagious overshooting. It is important to note that the previous standard issue police gun was a six-shot .38-caliber revolver. They switched to 9-mm pistols in 1993.
Victims are always criminals, even if they are innocent
The search by the police for the mysterious fourth person seen running from the police shooting scene has angered Bell's family. They are adamant that no such person exists. This is reminiscent of when the police searched Diallo's apartment in search of anything illegal or that could otherwise be used to make their case, a move that angered Diallo's mother. Fox News didn't waste any time in making public Bell's past arrests, arrests that have nothing to do with his shooting. This is part of a pattern of the police aided by the sensationalist corporate media — to first assume guilt on the part of the victim. Gone is the innocent-until-proven-guilty foundation of the justice system.
Bloomberg – Giuliani with a smile?
There are questions as to whether the Bell shooting is being handled appropriately by Mayor Michael Bloomberg. People are drawing comparisons between him and former Mayor Rudy Giuliani, who presided over the Diallo shooting in his final term. The Diallo case brought out thousands of protesters who committed civil disobedience and filled the jails.
Bloomberg, who was once described by the Rev. Al Sharpton as "Giuliani with a smile," has learned from the mistakes of the Giuliani administration. He was quick to involve Black elected officials and leaders following the shooting, holding meetings with them and posing for photo-ops. He also met with Bell's family, something Giuliani never did during the Diallo case. Giuliani's stance angered members of the African American community and many elected officials.
But Bloomberg, after all, is a billionaire media mogul. He of all people knows the importance of a good public relations campaign. The real questions are: what can be done? And is change possible? Below are some demands that protesters are calling for.
Repeal the 48-hour rule
Following the shooting of Amadou Diallo, there were calls for repealing the 48-hour rule. The rule gives police a grace period after a shooting. They get 48 hours to collect themselves, get their stories straight and sober up if they are intoxicated or on drugs.
Needed: a strong prosecution
Many officers accused of questionable conduct or unjustified deadly force have gone on to be acquitted, as in the Amadou Diallo case. In that instance, lawyers representing the police won a change of venue, getting the trial moved from Diallo's home borough to upstate Albany, N.Y. The four officers who shot Diallo went on to be acquitted there. It is clear that this same tactic will be employed by the defense team for the police in the Sean Bell shooting case. Protesters are calling for a strong and swift prosecution with no change of venue.
A community review board
A community review board — with teeth — means getting the community involved in overseeing cases of police shootings. Average citizens from the area in which an individual was shot would debate as to whether the police were justified in their shooting and then make recommendations for action. This demand is viewed as a "ridiculous" proposition by the Police Department. But the community review board proposal takes as its model New York's community boards — volunteer citizen governance bodies.
Fire Police Commissioner Kelly
Councilman Charles Barron from Brooklyn is spearheading the call to have NYC Police Commissioner Ray Kelly fired. Someone in the administration should be held accountable for the shooting, he argues.
Better training
Following the Diallo shooting, African American and Latino officials fought for and won more training designed to curb excessive force and accidental shootings. It is clear that this has had no effect and something more comprehensive — a review and change of problematic policies, for example, is needed.
Most victims of police shootings are African American, Latino or other people of color, but not all, especially in the case of people with mental illness or other disabilities.
The killing of Sean Bell has put the spotlight on police misconduct once again. A coalition of individuals and groups such as Sharpton, United for Peace and Justice, 1199/Service Employees Union and many others is mobilizing for a mass rally Dec. 16 calling for "Justice for Sean Bell."
But in reality it is not just Bell and his family who are in need of justice, but the many others who have been killed by police as well. This article focuses on the actions of police in New York City, but this is part of a nationwide pattern. Other such incidents have occurred throughout the country. This is part of a broken system that is in need of fixing.
Sam Delgado (sdelgado@cpusa.org) is a freelance writer who works for the Communist Party USA.
Some additional deaths from police violence to remember
Manuel Chametla, 18
October 2006
A deli worker shot in the chest by a retired police officer who mistakenly fired his weapon while reaching for his beeper.
Timothy Stansbury, 19
January 2004
Shot and killed by a housing police officer. A grand jury said the officer's gun discharged accidentally.
Ousmane Zongo, 43
May 2003
Shot by police investigating a counterfeit operation in his building.
Patrick Dorismond, 26
March 2000
Unarmed security guard shot by police outside a midtown cocktail lounge.
Angel Reyes, 47
August 1999
Shot by police during an undercover drug operation.
Gideon (Gary) Busch, 31
August 1999
A mentally ill man who was killed after four policemen, arrayed in a semi-circle around him, fired 12 bullets at him.
Kenneth Banks, 36
October 1998
Hit in the head by a two-pound radio hurled at him by a police officer.
Alex Santos, 23
August 1998
Shot during an undercover drug operation.
William J. Whitfield, 22
December 1997
Shot by police investigating reports of gunfire.
Sherly Colon, 33
April 1997
Witnesses claim police pushed her from the roof of her public housing residence and that handcuffs were removed from her body. Police said it was a suicide.
Anthony Baez, 29
December 1994
Killed by an illegal chokehold after a football from a neighborhood game accidentally hit a nearby police car.
Eleanor Bumpurs, 67
October 1984
A grandmother, who suffered from obesity and mental illness, was shot by police during a wrongful eviction.