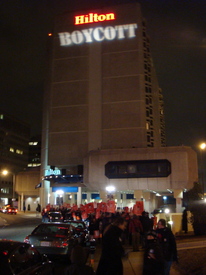 CRYSTAL CITY, Va. — In response to Barack Obama's appeal for volunteer service on Martin Luther King Jr.'s birthday, Jan. 19, hundreds of union members and their allies marched on the picket line at the National Airport Hilton Hotel here.
"Check out, not in," chanted the picketers as they marched in a circle in the chill evening darkness outside the hotel.
Obama's inaugural web site had listed the picket line as one of the King birthday public service events and many union members in Washington for Obama's swearing in the next day crossed the Potomac to join the embattled hotel workers.
The picket line was sponsored jointly by Unite Here Local 25 and the Northern Virginia Central Labor Council AFL-CIO.
The National Airport Hilton had been union for years, until ColumbiaSussex bought it.
Lulite Mengiste, a room service and food server is the union leader at the hotel. "We have had a union at this hotel now for nearly 12 years," she told the World. "But the new owners have refused for nearly two years to negotiate a contract. Without a contract, we have no respect, no job security. They want to take away our benefits. They care nothing for us as workers. Profits is their only concern. But our spirits are strong. We are united. We are going to fight Columbia Sussex and we are going to win."
Marching in solidarity was Margaret Ellis, Local 25 shop steward at the unionized Doubletree Hotel a few blocks away. "We just won our first contract last year," Ellis said. "What's happening here to these Hilton workers could happen to us. I just helped organize the new Hilton Hotel in Baltimore. We have our card check Jan. 26. So far, 80 percent of the 278 workers have signed for the union. We think it is going to be a union hotel. Our vision is to make all hotels union hotels."
She added, "I was so proud that our union was first to endorse Obama. We knocked on all the doors in Northern Virginia to get him elected."
Dan Duncan, president of the Northern Virginia Central Labor Council, told the World, "It says something about the importance of the struggle for workers' rights that our picket line is posted on Obama's inaugural web site." He said he has high hopes that the Obama administration will be sympathetic to workers' struggles to organize and bargain collectively.
In a sign of profound change, three Democratic candidates for Virginia governor walked on the picket line and spoke at a sidewalk rally. Also marching was Jody Wagner, former state treasurer and now a Democratic candidate for lieutenant governor of Virginia. "As you know, today is Martin Luther King's birthday," she told the crowd. "He dreamed of all workers being paid fairly. It's very appropriate that all of us are here marching for union rights on Martin Luther King Day."