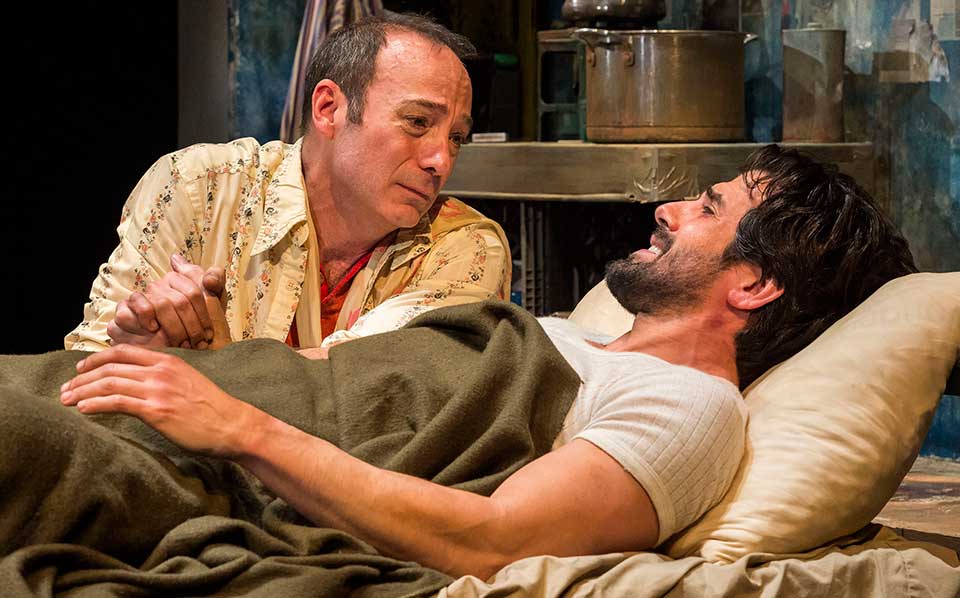 PASADENA, Calif. — Thrust together at an Argentine federal correctional complex, the notorious Devoto prison in Buenos Aires, two men of polar opposite persuasions occupy a common claustrophobic cell. The time is the Dirty War period from 1976 to 1983, when a brutal fascist military dictatorship led by General Jorge Rafael Videla ruled the land, targeting liberals, journalists, intellectuals, political activists, students, and homosexuals.
More than 30,000 people were killed during this period, and some 11,000 simply "disappeared" (los desaparecidos). The Madres de Plaza de Mayo—the Mothers of the Plaza de Mayo—courageously started demonstrating publicly for human rights and for information as to the whereabouts of their children and kidnapped grandchildren, and demanding that the culprits be held accountable.
One character in Kiss of the Spider Woman is Valentín (Adrián González), picked up as a militant in a "direct action" or urban guerrilla-type group that appeared to him and his comrades as the only possible response to the oppressive regime with other political avenues closed off. The other is Molina (Ed F. Martin), an effeminate homosexual who thinks of himself as more of a woman. He's been taken in on charges of "corruption of minors." True to age-old prison protocols, the wardens try to use Molina, whom they perceive as weak and easily manipulated, to draw confidences of the underground movement out of Valentín.
The play was adapted by Argentine writer Manuel Puig in 1983 from his best-selling novel El beso de la mujer araña, and translated from the Spanish by Allan Baker. Pasadena's A Noise Within has just launched its four-week run, April 1-23 (seen April 1).
Born in 1932, Manuel Puig grew up as a queer man in Argentina's conservative society. Introduced to the movies at a young age by his mother—B movies and escapist fare were their favorites—Puig often sought refuge in the cinema. "It was our escape," he said in an interview. "I hated my town. There was an authoritarian, repressive atmosphere, and I saw everything in terms of a second-rate cowboy picture, a B Western. The townspeople were the villains, not the heroes." In the mid-1960s, when a coup d'état led to a full-blown military dictatorship, Puig escaped overseas, writing Kiss of the Spider Woman in 1976 living in exile. Clearly reflecting the contemporary Argentinean political situation, it was banned in his home country until democracy was restored.
Baker's English translation premiered in 1985 at London's Bush Theatre, with Simon Callow as Molina and the 25-year-old Mark Rylance as Valentín. That same year it was turned into a film by Argentine-Brazilian director Hector Babenco, starring William Hurt and Raul Julia. The musical version, with a score by Kander and Ebb and book by Terrence McNally, opened on Broadway in 1993, receiving the Tony Award for best musical. Familiar as this literary property is, contemporary stagings of the play are relatively rare. Puig died of a heart attack at the age of 57 in 1990.
Michael Michetti directs this intimate two-hander, which turns poignant, chilling, funny, and sensual in sudden mercurial shifts of mood. The movie-loving Molina escapes the harsh tedium of prison life by recounting plots of his beloved film noir classics in an abundance of detail that might ordinarily seem unbearable—but what else have the cellmates to occupy themselves?—and emulates the spell of their glamorous leading ladies. He also speaks of his circle of queer friends and his devoted but sickly mother, perhaps the only person who has ever truly loved him. He is obviously attracted to Valentín and makes the constant effort to ease Valentín's hunger, isolation, and sickness.
Valentín is the ideal physical specimen, a quintessential macho man, except that he is ostensibly politically committed to egalitarianism in his relationships with women. He pines over his absent girlfriends, but according to the strict ideology his "organization" has adopted, overly passionate personal attachments are considered a danger to revolutionary commitment. His loyalty to the Marxist cause takes precedence over everything else.
As Valentín reminisces about his upbringing, however, a listener perceives that, like a great number of the urban guerrillas of that period (comparable to the Weathermen in the U.S. in the 1970s), he came from a solidly bourgeois background, so there is more than a suspicion of the poseur in his politics. His upper-crust mother has abandoned him. Audience members will have their own experiences to draw upon in their assessment of the revolutionary legitimacy of the urban guerrilla response to authoritarianism and imperialism, but in the end, one can't escape the conclusion that much of it had a Quixotic, adventurist, romanticized quality that if anything only turned off the masses of working people.
Still, despite the vast abyss between them, the sensitive queer and the hardened macho types do construct a fragile, yet gradually more mutually appreciative relationship. If Valentín has dismissed Molina's films and bolero songs as escapist "bullshit" and "romantic nonsense," he comes to see their truths they embody about the human condition and their value in helping people to articulate their emotions. What the two ultimately understand, about themselves and about each other, is the pain of not being in active connection with any other human being at this desperate stage in their lives. They have only one another. That feeling of safety, of someone having your back, listening to you, caring for you, can sustain them and give them hope. Like it or not, we depend upon one another.
"It's an amazing story, one that takes on new relevance in today's polarized climate," says Michetti. "The idea that two people from such different worlds, stuck together in this oppressive setting, are able to grow to understand and even love one another is beautiful and inspiring. There's a lot of humor and playfulness despite the serious nature of the story, and people who might be familiar with the film or Broadway musical version will be surprised to find how much language drives the play. We, the audience, are trapped in that cell with Valentín and Molina and, just like them, our only escape is to use our imagination."
Martin identifies as queer and Latino—he says he read Puig's novel in both Spanish and English before tackling his role—and has appeared in many productions centering queer characters.
The two actors have obviously bonded doing this harrowing play together. It's a tour de force for each and for both. These are complicated characters it takes some patience to get to like, but the rewards are deep. The action takes place over the course of several weeks, perhaps months, and plays without intermission. The connection they develop illustrates what may be the single most critical element to the resistance—empathic solidarity.
The A Noise Within production features an original, tango-inspired score by composer Alex Mansour. The creative team includes scenic designer Tesshi Nakagawa, who uses the thrust stage almost surrounded by the audience as an invitation to peer through the bars and grates into this hidden-away, virtually forgotten cavern of sorrows; lighting designer Jared A. Sayeg; sound designer Robert Oriol; costume designer Carolyn Mazuca; properties designer Stephen Taylor; dramaturg Dr. Miranda Johnson-Haddad; intimacy director Carly DW Bones; and casting director Victoria Hoffman. The assistant stage manager is Karin Naono, and the production stage manager is Lucy Houlihan.
Kiss of the Spider Woman plays through April 23 on Thurs. at 7:30 p.m.; Fri. at 8 p.m.; Sat. at 2 and 8 p.m.; and Sun. at 2 p.m. The Trans Chorus of Los Angeles offers a performance of pieces inspired by Kiss of the Spider Woman before the 8 p.m. show on Sat., April 8. Post-performance conversations with the artists take place every Fri. during the run and on Sun., April 9. There will be one student matinee at 10:30 a.m. on Weds., April 19: Interested educators should email education@anoisewithin.org.
A Noise Within is located at 3352 E Foothill Blvd., Pasadena 91107. Discounted tickets are available for groups of 10 or more. Kiss of the Spider Woman features adult content and is recommended for mature audiences ages 18 and up. For more information and to purchase tickets, call (626) 356–3100 or go to www.anoisewithin.org.