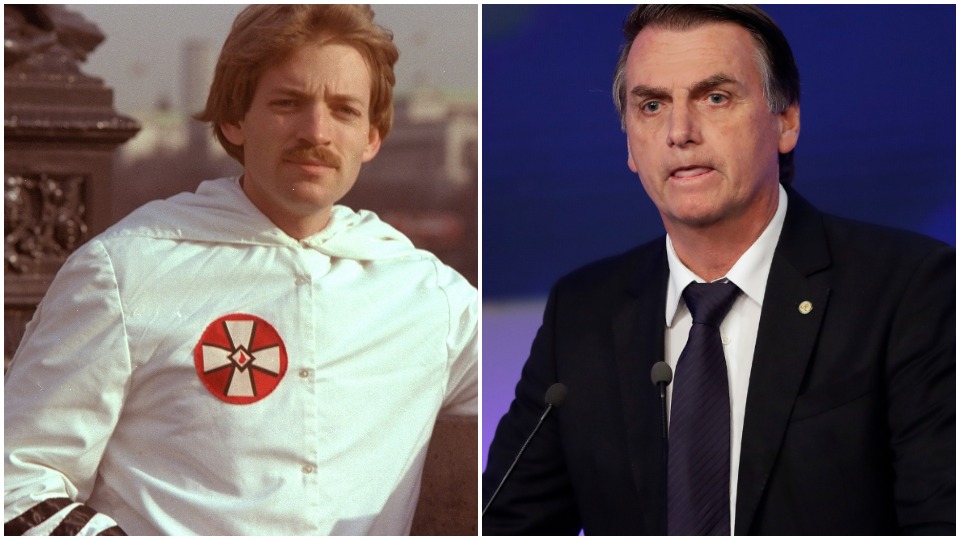 Former Ku Klux Klan (KKK) leader David Duke has endorsed far-right Brazilian presidential candidate Jair Bolsonaro, saying the former army captain "sounds like one of us."
Support from the prominent racist, who also supported Donald Trump during his 2016 presidential campaign, is the latest warning sign of the nature of Bolsonaro's candidacy.
Many have raised fears of a fascist dictatorship under his rule, with Bolsonaro consistently praising the military junta that ruled over Brazil between 1964 and 1985.
He has faced mass opposition on the streets, with millions demonstrating as part of the non-partisan #NotHim movement organized by Women United Against Bolsonaro.
Attacks on opposition supporters and journalists have increased dramatically since September 30, including the stabbing to death of a prominent Workers Party activist and a woman who had a swastika carved into her stomach.
Duke said: "He is a total European descendant, he looks like any white man in the U.S., in Portugal, Spain, or Germany and France and he is talking about the demographic disaster that exists in Brazil and the enormous crime that exists there in the black neighborhoods of Rio de Janeiro."
He was referring to comments made by Bolsonaro in Rio de Janeiro last year about quilombolas—descendants of African slaves—when he claimed: "They don't do anything. I don't think they're even good for procreation any more."
Bolsonaro tried to downplay the support of the former KKK leader, claiming he refuses support from "supremacist groups."
However, he was charged earlier this year with inciting hatred and discrimination against black people, indigenous communities, women, and gay people.
Brazil is set to go to the polls on October 28 for the second round of voting in a tense presidential contest, which is pitching two opposing visions for the future of the country.
Bolsonaro became the front-runner after popular former president Luiz Inacio Lula da Silva was blocked from running by an election court.
Lula's supporters branded the move a form of "lawfare" and a continuation of the coup which saw Workers Party President Dilma Rouseff impeached.
His replacement, Fernando Haddad, came second in the first round with 29 percent of the vote compared with 46 percent polled by Bolsonaro.
Left parties and progressives have united in their call for a vote for Haddad on the 28th to stop Bolsonaro from taking the presidency.