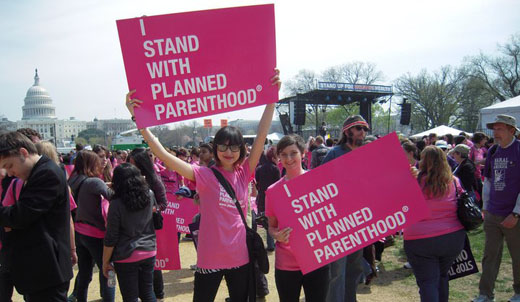 Planned Parenthood, the nation's leading provider of health services to women, has been a pet target of the Republicans and their far-right extremist pals.
Now, the nation's most prominent breast cancer advocacy group, the Susan G. Komen for the Cure Foundation – known for its pink ribbon symbol – has announced it is cutting off its funding of Planned Parenthood for the breast health services it provides.
Planned Parenthood provides nearly 750,000 breast exams each year.
The New York Times reports: "John D. Raffaelli, a Komen board member and Washington lobbyist, said Wednesday that the decision to cut off money to 17 of the 19 Planned Parenthood affiliates it had supported was made because of the fear that an investigation of Planned Parenthood by Representative Cliff Stearns, Republican of Florida, would damage Komen's credibility with donors."
The Komen Foundation's "Million Dollar Council" and "Million Dollar Council Elite" donors include a Who's Who of well known American corporations, including American Airlines, Caterpillar, Ford, Walgreens, 3M, Dell, Purina Cat Chow and New Balance, among others.
Why is Stearns investigating Planned Parenthood? Supposedly to determine whether it has used federal money to fund abortions. In fact, the excuse for the whole Republican/far-right war on Planned Parenthood is that it provides abortion services.
But Planned Parenthood says its nearly 800 health centers around the U.S. focus on prevention: "76 percent of our clients receive services to prevent unintended pregnancy.
Planned Parenthood services help prevent more than 584,000 unintended pregnancies each year."
Only 3 percent of its health services are abortion services, the organization says.
So, one has to ask: is this GOP crusade against Planned Parenthood really about abortion? Is it really "pro-life"? No! It is an attack on women's health overall – and especially lower-income and young women who rely on Planned Parenthood – an attack on their right to make their own health decisions, including about bearing a child.
Therefore it's especially disturbing that the Komen Foundation has bowed to the Republican right in pulling its funding for Planned Parenthood's breast cancer prevention services.
This is not a "women's issue." Last time we checked, women were 50 percent of the population. The other 50 percent, men, have all had a mother and undoubtedly have a sister, a wife, a niece, a daughter, an aunt or other close female relative or friend. So 100 percent of Americans have a stake in women's health and equal access to health care.
And at least 99 percent of Americans have a stake in stopping the Republican/right attack on women.
Contact the Komen Foundation and tell them to reverse their misguided decision.
And remember in November.
Phoro: Planned Parenthood Facebook page.