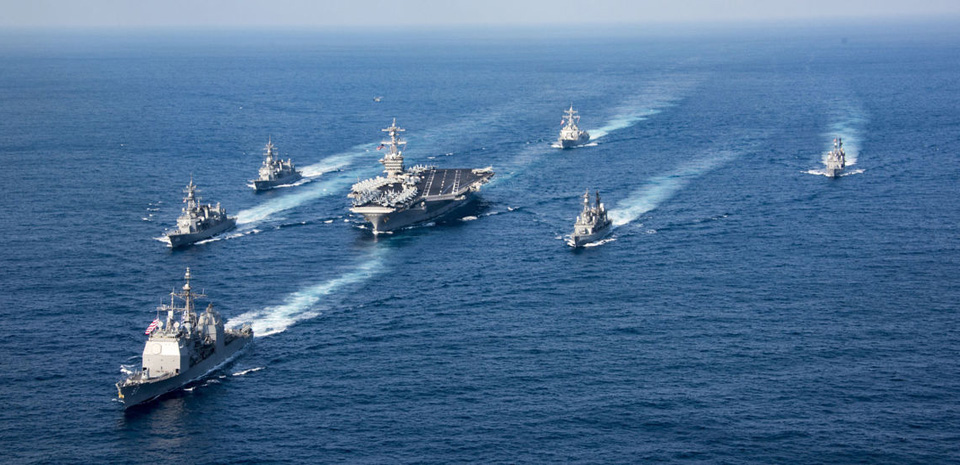 U.S. warships were dispatched to waters around the Korean peninsula over the weekend as Washington ramped up tension with Pyongyang.
The U.S. Navy's Carl Vinson strike group, comprising an aircraft carrier, cruisers, and destroyers armed with guided missiles, was ordered to the region to maintain "readiness," a Navy statement said. It had been scheduled to sail to Australia from a base in Singapore, but the group was instructed to instead turn north.
"The number-one threat in the region continues to be North Korea, due to its reckless, irresponsible, and destabilizing program of missile tests and pursuit of a nuclear weapons capability," according to U.S. Pacific Command spokesman Dave Benham.
Pyongyang has launched an increasing number of missiles towards Japan this year, most recently last Wednesday, although South Korean analysts believe that test was a failure as the missile fell into the sea after just 37 miles.
The dynastic regime's nuclear weapons program is condemned even by its main ally, China, as a destabilizing force in the region and a provocation which is used in Japan and South Korea to ramp up militarism and justify a significant U.S. military presence in both countries.
President Donald Trump drew attention to the issue ahead of his Mar-a-Lago summit with Chinese counterpart Xi Jinping by declaring the U.S. would "solve" the North Korea issue on its own if China did not take unspecified action to do so.
After the Trump-Xi meeting, Secretary of State Rex Tillerson claimed on Sunday that the Chinese government agreed with the Trump administration that "action has to be taken" regarding North Korea.
According to Tillerson, China and the U.S. had a "shared view" on the issue and said there was "no disagreement as to how dangerous the situation has become." Beijing, he claimed, does "not believe the conditions are right today to engage in discussions with the government in Pyongyang."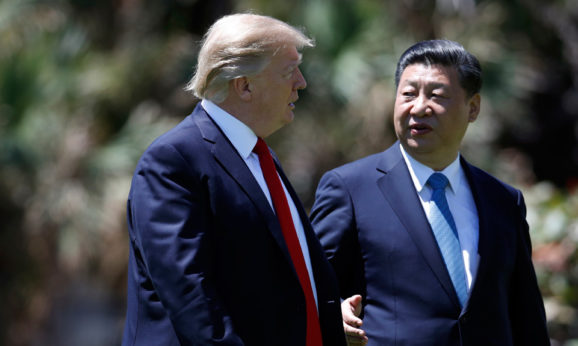 A report from NBC News late Friday says the National Security Council has presented President Trump with a number of possible options for action. Among the choices being considered is the placement of U.S. nuclear weapons in South Korea. A quarter-century ago, the U.S. removed its nuclear forces from the Korean peninsula; should it choose to position them there again, it would mark the first overseas deployment of such weapons since the end of the Cold War.
A second option reportedly under consideration is the assassination of North Korean leader Kim Jong Un and other top military officials in a decapitation strike aimed at disrupting the country's command-and-control structure. The operation of covert forces tasked with sabotaging military infrastructure in the country under CIA direction is apparently a third option.
According to the report, there is no consensus among top advisers as to which option, if any, to pursue.
Last week's U.S. air strike against the Syrian military, meanwhile, was held up by North Korea as proof that it needs nuclear weapons to deter a similar attack.
Calling the Tomahawk strikes on the Shayrat air base "absolutely unpardonable," the country's Foreign Ministry stated that the North would now "bolster our capability for self-defense in every way to cope with the U.S.'s ever-more reckless moves to war."
Washington conducts annual war games with its South Korean allies in which mock invasions of the North are practiced – exercises the North views as preparation for an actual invasion. Such provocations have characterized the U.S.-North Korean relationship for more than seventy years.
A clash with the country now could spark a wider conflict extending far beyond the Korean peninsula. The U.S. has established hundreds of military bases in the Pacific, creating a ring around China that Beijing fears could allow it to cut off trade routes preventing imports, including of oil.
China's response – building and patrolling artificial islands to maintain control of the routes – has angered many of its neighbors.
This story features information from Morning Star, Korean Central News Agency, and international wire services.