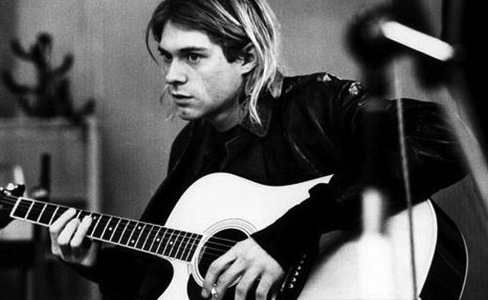 If iconic musician Kurt Cobain were alive today, he would be 47. The Nirvana frontman was born this day in 1967, and went on to become the voice of a generation and pave the way for heavy music's entry into the mainstream, despite his aversion to such popularity. He took his life on April 5, 1994, but has since been remembered as a powerful cultural figure and inspiration to new hard rock, grunge, and heavy metal artists.
Nirvana found breakthrough success in 1991 with their single "Smells Like Teen Spirit," and helped other bands in the grunge genre (also referred to as "the Seattle sound") gain prominence, including Alice in Chains, Pearl Jam, Temple of the Dog, and Soundgarden. But Cobain did not enjoy the media spotlight that was cast upon him during his career, instead maintaining his appreciation of his band's underground origins.
Cobain coped with a chronic stomach condition and became addicted to heroin in order to deal with the pain. He subsequently fell into depression, which eventually led to his suicide via shotgun wound to the head, which shocked and devastated the music world.
In some ways, it can be said that Nirvana encompassed certain aspects of Cobain's feelings and personality, as it succeeded in capturing the angst and cynicism that would come to define the grunge genre. Nirvana, like many grunge bands, toed the line between two opposite feelings: the aggression of the 80's thrash metal scene that preceded it, and the pronounced apathy of the nu metal scene that followed. This dichotomy was also represented within Nirvana's stop-start/heavy-mellow song structure.
Cobain also led a surprisingly progressive life during his music career, being a vocal LGBT rights advocate before it was "cool." Nirvana played at a gay rights benefit show in Portland, Oregon in 1992, opposing Ballot Measure Nine, which was, at that time, a measure that would have prohibited schools from publicly acknowledging LGBT rights. He was also a supporter of the pro-choice movement, an opponent of racism, and a critic of the commercialization of music and MTV.
Today, Nirvana fans honored Cobain on social networks, many of them tweeting some of his quotes, such as "Wanting to be someone else is a waste of the person you are," and "I'd rather be hated for who I am, than loved for who I'm not." But the quote that perhaps sums up Cobain the best is a simple one by musician Bob Dylan: "The kid has heart."
Photo: Michel Linssen/Redferns/Flickr