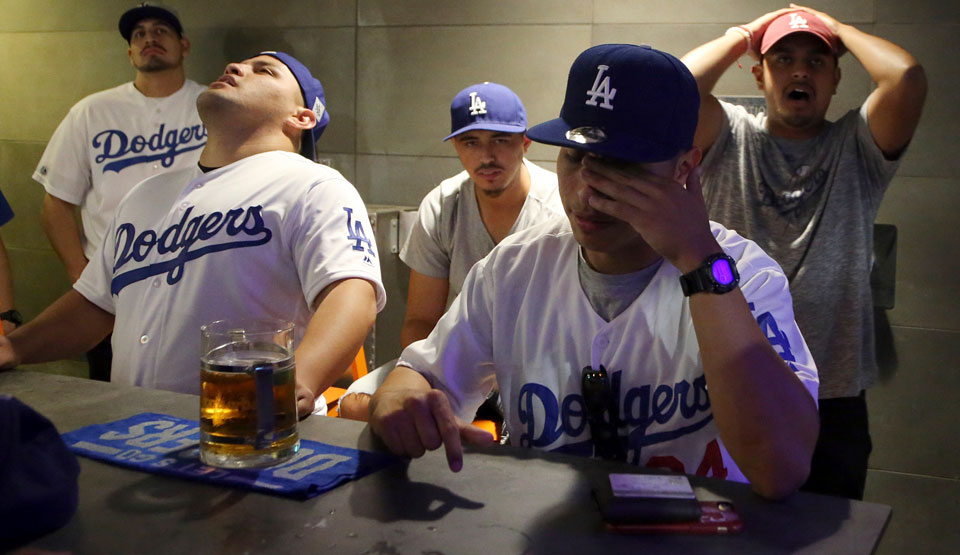 Rooting for the Los Angeles Dodgers in the 2018 World Series? If so, you should go ahead and start rooting for every corporate CEO, union busting law firm, and scab worker.
"Jackie Robinson is rolling over in his grave right now that members of his team are crossing the picket line," said Brian Lang, president of Unite Here Local 26, invoking the name of the first black baseball player, and former Brooklyn Dodger. "The Dodgers ought to take his number down … He stood up for justice."
That's right baseball fans, the National League champs took a cue from the "Evil Empire" (NY Yankees) and crossed the picket line set up by striking Marriott workers, members of Unite Here Local 26, at the Ritz-Carlton hotel Monday.
According to union chief Lang, the Dodgers players—union members themselves—snuck through the back of the hotel to avoid bad publicity.
Lang also mentioned he had reached out to Major League Baseball, in an effort to set teams up at non-striking hotels, but to no avail.
"It was turned down because there were not enough suites," Lang said. "For millionaires to hold their desire for luxury over people struggling paycheck to paycheck—I think it's shameful."
For nearly two weeks, thousands of union hotel workers have been on the picket lines outside Marriott-owned hotels in eight major U.S. cities.
Housekeepers, bartenders, and other service workers walked off the job October 8 after months of contract negations with Marriott broke down after the hotel giant failed to make significant movements on key worker issues including living wages, workplace safety, including steps to reduce and prevent sexual harassment, improved retirement benefits, and above all, dignity and respect.
I want people to know the job is not easy," Mei Leung, a housekeeper at Sheraton Boston, said. "I want them to know we need a good contract."
Leung, who has worked at the hotel for over 30 years, said her knees are permanently bruised from decades of scrubbing bathrooms on her knees. At 71-years of age, Leung says she can't afford to retire—imagine that…
While the Dodgers organization and the MLB Players Association have not responded to questions regarding this latest despicable act—MLBPA released a statement following the Yanks players crossing—the Houston Astros, who usually stay at the Boston Sheraton, changed their reservations to a non-striking hotel while they were in town.
Marriott International has become the largest and most profitable hotel chain worldwide. After acquiring Starwood Hotels in 2016, the company now runs more than 6,500 properties, including the Ritz-Carlton, Sheraton, and Renaissance Hotels.
The company is valued at about $49.4 billion, nearly double the value of Hilton, according to Forbes, and made $3.2 billion in profits in 2017.
Marriott said in a statement, "While we respect our associates' rights to voice their opinions and participate in demonstrations and this work stoppage, we are disappointed that Unite Here has chosen to resort to a strike. We continue to believe that the best place to resolve these issues is at the bargaining table."
After weeks of picketing and chanting, Marriot seems to be listening to workers demands and grievances, according to Lang.
So, let's all root for Boston (strikers).