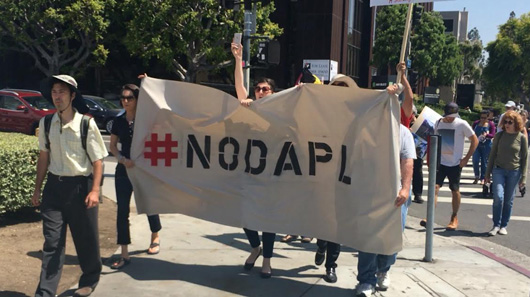 LOS ANGELES — Shouts of "Coward mercenaries," "Beware your neighbors," and the slogan "Water is life" were heard in front of the office building of one of the world's largest security companies, G4S Solutions, on Wednesday September 7th. A broad coalition of Native rights, environmentalist and other community groups staged the action to bring attention to the U.K.-based security multinational firm's involvement in the September 3rd attack on Native American protesters resisting the $3.8 billion Dakota Access pipeline (DAPL) construction on sacred Indigenous land. The tribes affected have said that any leak in the pipeline could potentially pollute the drinking water of millions.
The action, held in solidarity with the protestors at Standing Rock, was initiated by SoCal350 and supported by the American Indian Movement SoCal, Idle No More LA, the Interfaith Communities United for Justice and Peace (ICUJP), and other organizations. As reported by Democracy Now and People's World, mercenaries, working for the Dakota Access pipeline company, used pepper spray and guard dogs against unarmed, peaceful protesters. At least 6 people were bitten, including a pregnant woman and a young girl who were taken to the hospital and listed in stable condition. Demonstrators in Los Angeles on Wednesday wanted the world to know of G4S Solutions' involvement in the attack, and the continued fight of Native Americans to defend their sacred land.
The American Indian Movement of Southern California, Idle No More Los Angeles, and 350.org issued a joint public statement to the operators of G4S, declaring; "Your actions on September 3, 2016 at the Dakota Access Pipeline protests near Standing Rock Sioux reservation were witnessed across this country and around the world. Your use of attack dogs to intimidate and injure the protestors, including women and children, was reminiscent of the brutal tactics that have been historically used against both Native Americans and other people of color for centuries. Your company continues to perpetuate this historical discrimination and violence against our people and our allies." The statement went further to say that the security company could "no longer hide its involvement with the Dakota Access Pipeline project." and that the organizations would continue to "expose and resist any and all attempts to intimidate and harm our people."
As reported by Telesur, G4S Solutions admitted to having personnel deployed at "remote sites" where Native Americans are defending their lands from the DAPL. The security company recently published a job opening for "an armed custom protection security officer in Mandan, North Dakota" next to the campsites of North Dakota demonstrators. (Activists found out about this job opening when it was reposted on Facebook by Lakota Sioux Tribe member Olowaan Plain).
Speaking at the Los Angeles demonstration for SoCal350, Dr. Leah Garland brought attention to the environmental devastation the DAPL could bring. Garland noted that the Dakota Access Pipeline "would pump more than a half-million barrels of oil each day along eleven hundred miles through the Dakotas and Iowa to Southern Illinois." Quoting Sierra Club's Michael Brune, Garland added, "It's not a question if a pipeline will malfunction, but rather a question of when."
"We have to think of not our own selves but of the seven generations to come," said Idle No More Los Angeles member Menoman Martinez to the crowd. "We're standing our ground. You [should] put people first, not profits. Not the corporations. These corporations keep digging into our sacred earth mother trying to extract these items, her lungs, her blood… For what? To sell it to us. To make a profit." (story continues after video)
Dr. Natalie Weeks-O'Neal, an enrolled member of the Ft. Peck Assiniboine/Sioux Tribes of Montana and a resident of Los Angeles, along with being an Assistant Professor of Physical Therapy at West Coast University, also spoke at the demonstration after learning of the impromptu action on social media. Weeks-O'Neal stated to the group that she would soon be heading to North Dakota to stand in solidarity with demonstrators and family there.
Speaking further with People's World she explained: "Since the Europeans first came to this land hundreds of years ago, the quest for profit has far outweighed conserving the earth and its resources for future generations. For the first time in human history, mankind is destroying the environment at a faster rate than it can be repaired naturally. With the building of a large pipeline like the DAPL, the most precious resource, water, which provides life for ALL living things, is at risk."
Weeks-O'Neal explained that although she is a tribal member she has lived in the urban area since she was a teenager, became aware of the peaceful protests through relatives,  and grew concerned with the lack of media attention to the struggle. She encouraged those not physically able to be in North Dakota to still get involved by contacting their political leaders.
After the attack on September 3rd, in which three bulldozers were sent to the Standing Rock Sioux' sacred land to clear it for the pipeline, the Obama administration is supporting an emergency temporary restraining order against Dakota Access LLC as filed by the Department of Justice on Monday Sept 5th. On Sept. 9th a federal judge is set to rule on the injunction filed by the Standing Rock Sioux tribe to stop construction of the Dakota Access Pipeline according to attorneys representing the tribe.
Demonstrators in Los Angeles urged the public to get involved and to put the pressure on their elected officials to support the dozens of Native American tribes standing together to defend their land and the environment. As Weeks-O'Neal explained, "It is a huge election year, with over half of Congress up for re-election. There is no better time for a large peaceful movement to impact politicians seeking election. After all, that is the ultimate manner in which long term change happens in our government."
Photo: Chauncey K. Robinson/PW