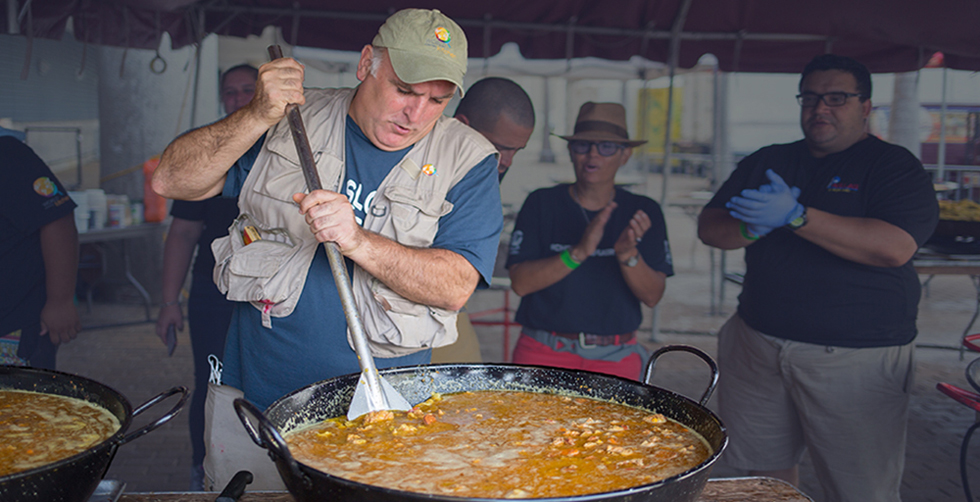 LOS ANGELES—Food festivals are a chance for people to try something they don't get everyday—an excursion into the variety on offer in the wide world of cuisine. Established and upcoming chefs and restaurants, along with food lovers, of course, often descend on a designated city, and for a few days, those with festival tickets and money to spend delight in savory and sweet tastes from around the globe.
It can certainly be a fun experience, but the whole food festival roadshow often leaves little lasting impact on host cities. The same might be said for the effects (or lack thereof) it has on the food industry and the working condition of those employed in it. But the Los Angeles Times Food Bowl seeks to change all that. For the full month of May, L.A. Food Bowl is choosing to celebrate Los Angeles' dynamic, influential food scene, all while promoting awareness about food waste and hunger.
People's World was able to interview Los Angeles Times Senior Food Editor Amy Scattergood about the festival's purpose and goals as it heads into its second year of existence. In our discussion, Scattergood touched upon the poverty crisis afflicting Los Angeles, the impact of immigration on the food industry, and ways people can get involved to make positive change.
Recently, it was reported by the Los Angeles County Department of Public Health that in Los Angeles, even among households with incomes up to 300 percent above the poverty line, there are half a million suffering from food insecurity. Often, people are forced to choose between buying food or paying rent. Scattergood spoke to this issue and the significance of L.A. Food Bowl taking place in the city.
"No one needs another food event that's just concentrated on 'fancy' stuff in my opinion," she said. "The whole idea of having a food festival that is a month long, as opposed to a couple days, that encompasses so many events over a long period of time, rather than in some restricted area where everyone doesn't have access, is so we can bring people in who can expand the conversation," Scattergood explained. Speaking to the kinds of chefs headlining the event, Scattergood noted popular chef José Andrés and the work he's done beyond haute cuisine.
"He has a white tablecloth restaurant in Beverly Hills, but he also won a humanitarian of the year award last year. He also co-founded L.A. Kitchen and has spent the last couple of years doing relief work in the U.S. and Puerto Rico. The conversation, by definition, is expanded to things like hunger and sustainability, and want, and need by having someone like him on the stage."
Noting that charity partners will also play a more active role in L.A. Food Bowl, Scattergood explained, "Most [events] have charity partners these days, but the difference hopefully with our event is that we are bringing them onto the stage." The three official charity partners of the festival are L.A. Kitchen, Food Forward, and Midnight Mission. L.A. Kitchen focuses on providing healthy meals to local people and training the unemployed for work in the food industry. Food Forward is an organization that collects fruits and vegetables that would normally go to waste from public orchards, farmers markets, and the downtown Los Angeles Wholesale Produce Market. They then donate the produce to hunger relief agencies across eight counties in Southern California. Midnight Mission, founded in 1914, has as its main focus helping those dealing with homelessness find employment and move toward self-sufficiency.
"We'll be taking over Manhattan Beach Pier and talking about seafood sustainability and dock to dish," she said, referring to a network of programs that connect small-scale fisheries to regional communities through food sourcing cooperatives.
"Yeah, we put fancy food on a plate, but the chefs in question will have gotten much of that from food that would have gone to waste. Such as getting it from Food Forward, for example. The hope is to broaden the conversation and allow access points to those doing the work. There are events that are super expensive, but there are events that are free. There are things for everyone, at least that's the hope. Because there are too many problems, too many things that need to be addressed, (like hunger, food waste, and homelessness), for us to have yet another fancy food festival that not a lot of people will have entry to…. We need to try at least to widen the conversation, and widen the focus, so it's not elitist."
It's hard to have a discussion about the food industry and not also address debate around immigration reform, especially in a city like Los Angeles. The latest statistics show that 71 percent of crop workers are foreign born, and at least half of farmers are not legally authorized to work in the United States. According to the U.S. Department of Labor, 57 percent of the country's agriculture workforce is undocumented.
So it's clear that any changes to immigration policy impact on all facets of life in the United States—right down to the food we eat. The administration currently occupying the White House has spoken of greatly limiting immigration, and devastating deportations are already tearing families apart. Scattergood spoke to these facts and figures, and the Food Bowl's aim is to be part of the conversation.
"The way I think of it," Scattergood began, "is that you go to a restaurant, you get your food and you leave. Unless you're a particularly aware person, you may not be thinking about who is cooking your food, how much money they make, if they're documented, and the amount of work that goes into producing what you are consuming.
"We have to open the kitchen door, give those people a voice, and allow them into the conversation…allow them to tell about their lives, experiences, and what they go through. For events like this [L.A. Food Bowl] you talk about the diversity of the people who are growing your food, driving your food, cooking your food. You just try to open all the doors. I think people just aren't aware of it in a lot of cases…. We need to elevate that conversation and extend the democracy."
Scattergood also explained that the work around eliminating food waste, hunger, and homelessness will extend beyond just the 31 days of the festival. In championing organizations doing the work, festival participants will also be able to learn about ways they can get involved directly. "Because that's what you want. Open up the conversation, get accessibility, and not just have it be another tokenistic thing."
For more information about LA Food Bowl and how you can get involved and/or attend, go to: lafoodbowl.com