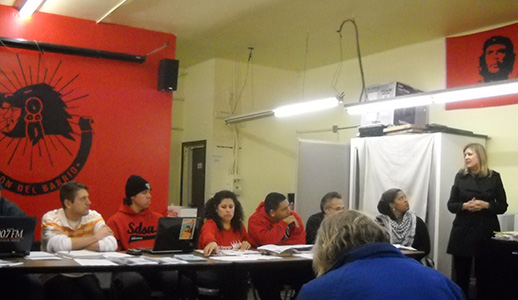 LOS ANGELES – A community meeting here last week unanimously called for an end to the impoundment of unlicensed drivers' vehicles at sobriety checkpoints. The South Central Neighborhood Council, at its Dec. 21 meeting, joined other groups who have passed similar resolutions to fight against what many are calling an abuse by sheriffs and police departments specifically targeting poor, minority and immigrant communities.
For several years vehicles belonging to unlicensed drivers have been confiscated during traffic stops including sobriety checkpoints by police and sheriff's departments working with private tow truck companies. An estimated $40 million in revenue has been generated from car impoundment, according to La Opinión.
The South Central Neighborhood Council urged adoption of the policy followed by the city of Oakland, Calif. In Oakland, during a traffic stop where it is determined that the driver is unlicensed, he or she is given the opportunity of parking the car and picking it up within 30 days of the initial traffic stop.
Several cities and counties throughout California have passed similar resolutions, such as Maywood, Santa Clarita and San Francisco.
None are more affected by the traffic stop vehicle impoundment than unlicensed undocumented immigrants.
In the city of Bell, police officers were told to look for old, beat-up cars with religious imagery or symbols on the car or hanging from the rearview mirror, according to Cynthia Anderson-Barker of the National Lawyers Guild.
She added, "If that isn't racial profiling, I don't know what is."
A class-action lawsuit has been filed against the State of California and the California Highway Patrol (CHP) charging illegal confiscation of vehicles of unlicensed drivers. The case is currently before the Ninth Circuit Court of Appeals. The National Lawyers Guild cites as legal precedents Miranda v. City of Cornelius and People v. Williams, in which impounding vehicles of unlicensed drivers was found to be unconstitutional.
If three Los Angeles neighborhood councils pass the same resolution it must be added to the Los Angeles City Council's agenda, according to a member of the Olympic Park Neighborhood Council, Joseph Hancock. That is something that immigrant-rights activists and community members eagerly want.
In attendance at the South Central meeting were several members of Central Area Neighborhood Councils of Los Angeles, including Olympic Park. All have expressed the desire and enthusiasm to work to pass similar resolutions in their own neighborhood councils.
Photo: LA's South Central Neighborhood Council meets Dec. 21. PW/Luis Rivas