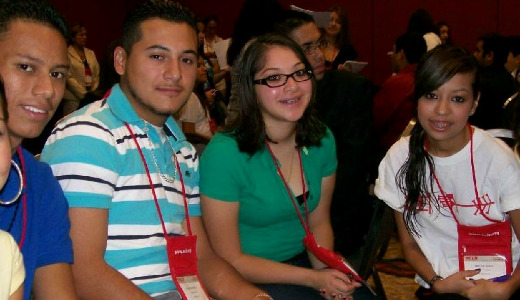 SAN ANTONIO, Texas – Some 30,000 participants turned out for the National Council of La Raza (NCLR) annual conference here last weekend, where a major theme was the struggle to overturn Arizona's anti-immigrant SB 1070 law. The four-day event was open to the public.
The NCLR gives voice to Latino interests, needs and culture, and was a big opportunity for the two Texas gubernatorial candidates to try to win Latino support. Advertisers spent money to reach the Latino community, which is approximately half the population here.
A major workshop called "What's the Matter with Arizona?" drew over 500 people. Daniel Ortega, who is leading the legal fight for NCLR, explained the Arizona law in clear detail. Its provision forcing police to act as immigration agents was denounced. Even the Arizona organization of police chiefs opposes it. Ortega said that stopping someone who looks "suspicious" (wearing the wrong kind of shoes?) is outside the calling of local police.
Here in San Antonio, Police Chief William McManus has also spoken against this new role, saying it will harm police officers' relationships in the Latino community. Police also complain the law allows the public to sue officers for "not doing their job." Arizonans who might want to give safe harbor, food and water to undocumented workers could be arrested.
Panelists and NCLR President Janet Murguia passionately spoke about the work of NCLR on different fronts, including legal action in defense of immigrant rights. On July 22, there will be a hearing to get an injunction that would stop the law from going into effect on July 29. Murguia stressed unity with other groups. Emphasizing Latinos' enormous economic impact, she called for "flexing our economic muscle using boycotts." The panel stressed calling, writing and texting Baseball Commissioner Bud Selig to stop the 2011 All Star game from being held in Phoenix.
A workshop attended by over 200 youth emphasized that the effect of the law has already been felt. The majority of them expressed fear of going outside. Over half said they had already been stopped, sometimes repeatedly, and by the same police officer.
Addressing the convention, Mary Henry, president of the Service Employees Union (SEIU), spoke strongly against the Arizona law, the detaining of people and orphaning of millions of children.
At a spirited "Wise Latina" luncheon attended by about 1,000 people, Murguia energized the crowd by exploding in anger at members of Congress and candidates who try to out-do each other in bashing immigrants for political gain. "Not one Republican has expressed concern for our civil rights, and they have stood in the way of comprehensive immigration reform," she charged.
Texas state Rep. Trey Martinez Fischer spoke of the building of the Texas State Legislature's Mexican American Caucus, now up to 40 members. So far, it has prevented all proposed anti-immigration bills from getting out of committee.
Henry Cisneros, former San Antonio mayor and Clinton administration housing secretary, well known and loved in Texas, said Arizona has gone over the line. He was given a standing ovation.
Republican Gov. Rick Perry spoke on the first day. He disappointed most of the crowd, who were interested in a more humane immigration law. Perry stressed militarization of the border. Opposing Perry, Democratic candidate Bill White drew cheers by emphasizing that, if he becomes governor, he will absolutely veto any copycat of Arizona's law.
On the last day, the main speaker was Maj. Gen. Angela Salinas. She was the first Hispanic woman to become a Marine Corps general. She was honored along with Latinos who have given their lives to defend the country. It was made clear that an inordinately higher percentage of Latino soldiers have died and been injured in the current wars in Iraq and Afghanistan.
Photo: Some of the 200 young NCLR workshop participants who discussed their feelings about the effect of the Arizona law. "We are afraid to go out now," they said. (PW/Vivian Weinstein)