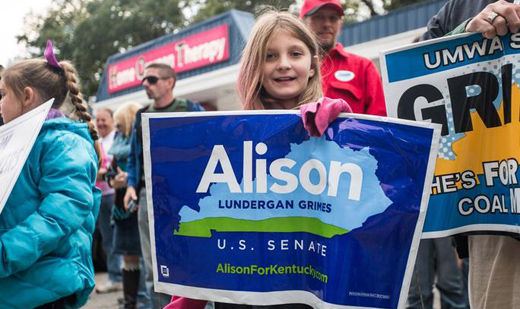 "A jackass can kick a barn down, but it takes a carpenter to build one," legendary former U.S. House Speaker Sam Rayburn famously once observed.
Kentucky unions think they have a master carpenter in Alison Lundergan Grimes, the Democrat who is after Sen. Mitch McConnell's job. The barn McConnell wants to bash is organized labor, says the Kentucky State AFL-CIO, which says it has endorsed Grimes because of her commitment to working families. Says Grimes: "In the U.S. Senate I will create jobs in Kentucky by raising the minimum wage, ending tax breaks for companies that ship jobs overseas, championing equal pay for equal work, and sponsoring legislation to ensure our veterans have access to good-paying jobs and fighting to reduce student loan debt. I also believe it is critically important to protect Medicare and Social Security for our seniors."
Grimes, 35, is Kentucky's secretary of state. She is giving hope to Kentucky Democrats who long for their blue and red "Ditch Mitch" bumper stickers to come true. That's why Bluegrass State union volunteers are phone banking, wearing out shoe leather canvassing neighborhoods, passing out fliers and doing all else they can to help Grimes "send Mitch McConnell back to Alabama," his native state, as she likes to put it.
She calls the Senate minority leader "Senator No."
"If the doctors told Sen. McConnell he had a kidney stone, he would refuse to pass it….Our state faces serious challenges that won't be solved by the hyper-partisanship and gridlock championed by Mitch McConnell."
Earlier this year, a newspaper quoted McConnell as saying that bringing jobs to Kentucky was not his job. Grimes said, "Creating jobs will be my top priority in the U.S. Senate. Working across the aisle toward compromise and finding common ground are what it takes to improve the lives of families in Kentucky and across the country."
The most important issue facing Kentucky, says Grimes, "is the lack of access to good-paying jobs. That is why I have offered a comprehensive jobs plan that will rebuild the middle class and help create jobs."
As a part of her plan, she promises to create jobs here at home by ending tax breaks for corporations that ship Kentucky jobs overseas and provide tax incentives for companies to bring jobs back to the commonwealth. Mitch McConnell has blocked measures to end tax breaks for moving jobs overseas, she notes, and led the filibuster on a bill to end tax giveaways for companies shipping jobs overseas.
Grimes also calls for raising the minimum wage, closing the gender pay gap and easing the crushing burden of student loan debt. "Each of these steps will boost wages and stimulate our economy."
On Medicare and Social Security, she says:
"I will never vote to reduce benefits or restrict eligibility for Social Security or Medicare. I will be an unwavering opponent of privatizing Social Security or Medicare or moving either to a voucher program. I will never support means-testing for Social Security. Mitch McConnell voted to do away with Medicare as we know it and privatize Social Security, which would gamble seniors' retirement on the stock market."
Last year, McConnell and Kentucky's other Republican senator, Rand Paul, proposed legislation to enact a national right to work law. Grimes is against right to work (for less) laws at both the federal and state levels.
"Collective bargaining, "says Grimes, "is a fundamental right of our American workers, and I strongly oppose right-to-work legislation.
"Labor has lifted millions out of poverty and helped to grow the middle class. In the U.S. Senate, I will continue to be an unwavering voice in support of the rights of workers and their right to collectively bargain, an essential tool for economic well-being….Meanwhile, Mitch McConnell has led the charge against Kentucky workers as he attempts to cut wages and jobs. Right to work is just another name for union-busting and yet another clear example of McConnell selling out Kentucky's middle class to millionaires and billionaires."
The above article by Berry Craig is reprinted from the AFL-CIO Now blog.
Photo: AFL-CIO Now blog