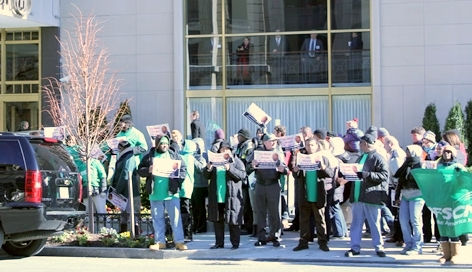 PHILADELPHIA – The word went out from Independence Mall today that the nationwide assault on public services and public workers is meeting resistance on a new level. Several thousand union members, community activists, public school students and parents gathered to celebrate the birthday of Dr. Martin Luther King and to hear speakers from the labor, education, and religious communities.
National and local labor leaders took the podium to call for increased unity and fightback in the face of relentless cutbacks and public worker layoffs.
Many consider this city "ground zero" in the fight to save and improve public education and public services. The city's two major AFSCME locals have been without new contracts for over three years, and the workforce is becoming increasingly disillusioned and angry with Mayor Michael Nutter and his attitude toward negotiations.
Pete Matthews, president of District Council 33, which represents 10,000 blue collar city workers, said that the Mayor had told his workers four years ago that he needed their help and that they had helped him balance four annual budgets since that time. Now the Mayor refuses to negotiate with the union and has made a unilateral "final offer" which the union considers "insulting" and can hardly take seriously.
"We are under siege right now," Matthews told the crowd. "Mayor Nutter came to our general membership meeting four years ago and promised us fair treatment. Now he is attacking everything that makes our communities strong. He said we were holding the city of Philadelphia hostage, but we are the ones being held hostage. We say to the Mayor: 'Keep your word.' We are not giving back a thing."
Cathy Scott, President of AFSCME District Council 47, representing 3,000 white collar city workers, told the crowd that her members had been without raises for over four years, despite making numerous suggestions for ways to raise revenue without raising taxes. She said it was now clear that Mayor Nutter is part of a national agenda to attack public service and drive down wages.
Noting the size of the crowd, she said, "No more will he be able to say he represents the 99 percent on the national stage while he plays the grinch here in Philadelphia." She told the Peoples World before the rally that her union had been pressing the city negotiators, so far without success, to explain how they do their "costing out" when they claim they save millions by contracting out services.
AFSCME national President Lee Saunders captured the spirit of the day when he asked,"Isn't it ironic that Dr. King gave his life in the struggle for the dignity of sanitation workers, and in 2012 we have a mayor who does not respect that struggle? Isn't it ironic that President Barack Obama believes in the right of working people to bargain collectively while Michael Nutter supports the wealthy in this city? Your fight in Philadelphia is the fight of the 1.6 million members of AFSCME who will not rest until you get a fair contract."
This city is also the scene of a building struggle over the future of public education, and unity among school workers, students, parents and community activists has grown in the face of threats by the local school authorities, supported by the Mayor, to privatize large sections of the School District.
The American Federation of Teachers president, Randi Weingarten, recalling Dr. King's statement that "our lives begin to end when we are silent," asked the crowd if anyone could be silent when the Philadelphia school district has imposed "cut after cut after cut…. We tell our kids 'You have to go to college' but in Philadelphia they close schools, shut down programs, take away guidance counselors and nurses, and increase class sizes. Are we going to be silent about that?"
Philadelphia AFL-CIO President Pat Eiding pointed to both city and state authorities as responsible for the attack on public workers and public services saying, "We can not let this city be disgraced by some dictator who refuses to negotiate or by some state group who wants to come in here and tell us how to run our schools. There will be no 'take this or else!'"
Both AFSCME and the AFT have demonstrated their commitment to the struggle in Philadelphia by putting national staff on the ground here to build support for their members and for the effort to rescue public services and public education. The AFT is supporting PCAPS, the Philadelphia Coalition Advocating for Public Schools, which has emerged in the city during the past year in response to the intensifying school crisis.
The crowd also heard from parent and student activists. Erica Alverez of JUNTOS, which fights for the rights of Latino immigrants in the city, stated that she was a supporter of PCAPS, and quoted Dr. King's statement that "We may have come here on different ships, but we're all in the same boat now!"
The School District has announced plans to close 37 schools at the end of the current school year. The PCAPs coalition has put forward the demand for a moratorium on school closings, and it was announced at the rally that City Councilwoman Jannie Blackwell planned to introduce a resolution in Council in support of a moratorium.
Jerome Mondesire, head of the Philadelphia NAACP told the rally that he and his organization well understood that the Civil Rights struggle would not have happened without organized labor…. The Mayor of our city has not shown respect to the organized working people…. We will do what ever we have to help you get the respect you deserve."
The rally was part of the AFL-CIO's national King Day Observance held in Philadelphia over the weekend. It included members of private sector unions as well as those in the public sector: steel workers, transport workers, the building trades, teamsters, food and commercial workers, machinists, youth and students as well as members of Working America, Jobs with Justice, Occupy Philly, and others.
Video: Union workers honoring Dr. King with community service in Philly
Photo: AFSCME workers join in rally against Mayor Nutter's policies. The rally took place outside the Capital Hilton in DC, where Mayor Nutter was chairing a meeting of the National Conference of Mayors. Pablo Ros/AFSCME