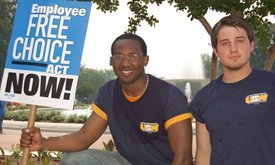 WASHINGTON — No matter how hot and sweaty it got here June 19, support for the Employee Free Choice Act was hotter. Some 3,000 union members and allies rallied on Capitol Hill for the most radical reform of U.S. labor law in over 70 years. The bill would help restore the right of workers to organize a union, a right that has been steadily eroded by corporate America.
"My brother-in-law was fired for trying to organize a union when he worked for a cable TV company," Beverly Jackson, a Communications Workers of America member from Maryland, said. "Unions protect jobs and provide good benefits."
Larry Scanlon, political action director for the public employees union, AFSCME, said, "Public education, an 8-hour day, family medical leave, higher wages, a voice at work" are just some things that have come about because of unions. "If you are just one person, there's no power in that, but the more people who join together, the more power."
Recent polls show that 62 percent of Americans believe workers would be "worse off" if there were no unions.
Yet the EFCA, which passed the House of Representatives in March by a 241-185 margin, faces stiff opposition in the Senate, where the Democrats hold only a one-vote majority. The National Association of Manufacturers, Chamber of Commerce and other employer groups have unleashed a massive campaign against the bill and most Republican lawmakers stand with them. President Bush has promised to veto the bill if it passes the Senate.
Passage of the EFCA would improve existing labor law so that workers could form a union as soon as a majority sign cards indicating their desire to do so. Under current law, the company can insist on an "election," triggering what usually amounts to a long, drawn-out process during which employers typically harass, intimidate and fire union supporters before any vote ever takes place.
Anti-union corporate-backed groups took out a full-page ad in Washington papers, claiming to uphold the right of workers to these so called "free elections."
"I have something to say about this," Sen. Ted Kennedy (D-Mass.), one of the bill's top advocates, told the rally crowd. He tore up the newspaper ad, throwing the pieces to the ground. "Our members have to clean that up," joked rally emcee Gerald McEntee, president of AFSCME.
Kennedy introduced the EFCA in the Senate in March, along with 46 co-sponsors. The co-sponsors include presidential candidates Joe Biden, Hillary Rodham Clinton, Chris Dodd and Barack Obama. Democratic candidates not in the Senate — former Sen. John Edwards, Gov. Bill Richardson and Rep. Dennis Kucinich — all support the bill as well.
Teamsters President James Hoffa told the rally, "Joining a union should be as easy as just signing a card." But, "there's a war of intimidation, fear of discharge," going on in America, he said. "The EFCA would take the fear out of union organizing."
The EFCA is a "close second to the Iraq war" among important issues before Congress, said freshman Sen. Sherrod Brown of Ohio.
Senate debate began June 18. Majority Leader Harry Reid (D-Nev.) told the crowd a vote to end debate could come shortly. The bill has 52 backers, but 60 votes are needed to end a Republican filibuster that could kill the bill.
CWA President Larry Cohen urged the crowd, "Call your senators and tell them: 'We're watching, we're watching. The whole world is watching, the whole labor movement is watching, and we will be there.'"
The fierce drive across the country for passage of the bill extended beyond rallies in 100 cities. Thousands of e-mails and phone calls poured into the offices of every senator. The AFL-CIO, moments before the Capitol Hill rally, finished collecting 50,000 signed online cards from all 50 states, combined them with thousands of signatures collected in towns and cities across the U.S. and delivered the whole package to the Senate.
In Columbus, Ohio, 350 workers rallied at the Statehouse demanding passage of the EFCA. Petie Talley, Ohio AFL-CIO vice president, accused the Bush administration of hypocrisy on workers' rights.
"This administration goes around the world self-righteously preaching democracy to everyone else," Talley said. "All the while they deny the most basic right to organize and join a union of their choice to workers here in the United States."
talbano @pww.org
John Wojcik contributed to this story.