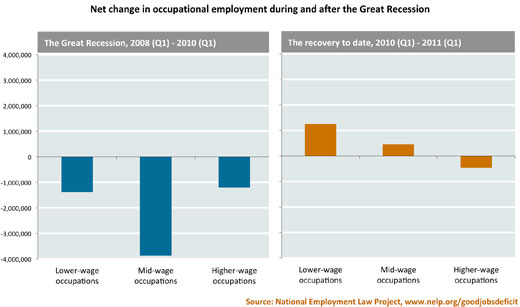 WASHINGTON – When it comes to income and net wealth, the years since 1983 have been a "lost generation" for all but the richest 5 percent of the U.S., say Larry Mishel and Heidi Shierholz of the Economic Policy Institute.
And what's worse, they added in commenting on EPI's new report on the impact of long-term high unemployment, is that there may be a second lost generation to follow – the students now in school or those who just exited from college.
The EPI study, released Aug. 31, points out that U.S. joblessness has remained above 8.8 percent for a record 28 months. Mishel and Shierholz said their economic models show it would stay that way at least through 2014. Underemployment and unemployment combined are approximately double the jobless rate, the study notes.
But the monthly jobless numbers understate the case, the two added. Mishel noted that just in 2007-09 alone – the Great Recession – wealth of the top 20 percent of the populace declined by 27 percent, while wealth for the rest of the country dropped 40 percent.
Net wealth of African-American households crashed to $2,200 each. Median wealth for all households is now less than it was in 1983. And 44-45 percent of the jobless have been out of work for at least six months.
"We had a generation where the economy has been stagnant and the middle class family moved ahead because more people in the family went to work," Mishel said of the 1983-2007 period. But with high joblessness and the crash in wealth, that's closed. "You're just piling hurt upon hurt" for those workers and families, he said.
The "scarring" from such high joblessness will be felt even more by those workers' kids, Mishel explained. They'll be more likely to be victims of poverty, have jobless parents, be evicted from their homes, and do poorly in school. The stress will lower their productivity, and their future earning power, he warned.
"Young people coming out of college will be scarred for life" by both initial failure to find jobs and – when they find them – salaries and security that are far below their skills. Unfortunately, politicians are not responding to such present and future distress, the two EPI analysts said. "They're telling people to 'stiff it out,'" Mishel commented.
That includes Democratic President Barack Obama, Shierholz said. "The key thing we need from him" to break that outlook is a jobs package that employs the current 14 million jobless and the other 11 million underemployed, she said. Obama's first stimulus law saved 3.5 million jobs, but that wasn't enough. "Why don't we try direct government job creation?" she asked.
Image: Median-wage jobs collapsed during the Great Recession, a new report by the National Employment Law Project says. The subsequent "recovery" has seen much less job creation – and it's been in low-income occupations. Chart courtesy the National Employment Law Project via PAI Chart Service.