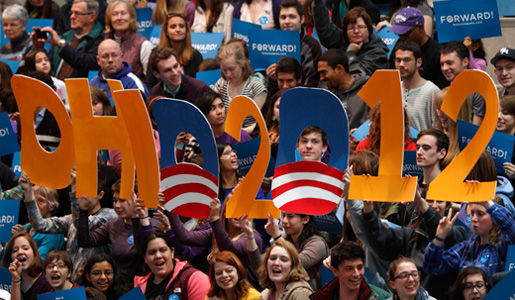 WASHINGTON – The labor movement, after throwing everything it had into the successful reelection effort of President Obama, is celebrating today.
You could hear the cheering for blocks as activists watching the returns last night at AFL-CIO headquarters here got the news that Ohio had put Barack Obama over the top. A solid string of victories across the so-called "rust belt" states of the manufacturing Midwest, everyone agreed, could not have happened without organized labor.
Union members know they have worked hard.
"Nothing about the last four years has been easy for working people," said AFL-CIO President Richard Trumka. "From the Great Recession to Hurricane Sandy, from unrelenting partisan obstruction by Republicans to the greatest onslaught of negative ads ever unleashed against an American president."
Trumka said that through it all Obama has been "a steadfast ally" focused on repairing the economy, rebuilding the ladder to the middle class, and "investing in our shared future. That's why unions made this historic effort to bring home the vote for Obama from Nevada to Ohio and from Wisconsin to Pennsylvania," he added.
Larry Cohen, president of the Communications Workers of America said his union, "throughout this long political campaign, has been clear that this election was about a choice. Americans who want to insure a place for workers in our economy made a clear choice in reelecting President Obama."
Union members bolstered the President's campaign in a variety of ways.
In Ohio, the foundation of their efforts was in place already more than a year ago when they got 1.3 million signatures to block the GOP plan to destroy public workers' collective bargaining rights.
This year the unions lent their organizational, financial and legal resources also to groups fighting voter suppression in the state of Ohio and to the successful re-election effort there of Sen. Sherrod Brown, considered one of the most pro-labor members of the U.S. Senate. Brown defeated his tea party opponent.
In Pennsylvania, another state carried by Obama, the CWA and the Transport Workers Union carried out massive voter registration drives.
"Middle class populism triumphed," said OurFuture.orgs's Robert Borodage. "The president swept key states in the Midwest because his campaign scoured Mitt Romney for his Bain record and produced for workers the rescue of the auto industry."
In the post election period unions say they have no plans to take any prolonged rest period and that they are already mobilizing to protect Social Security, Medicare and Medicaid from benefit cuts.
"Some legislators and their backers on Wall Street are already set on reaching a 'grand bargain' in the next eight weeks," said Trumka that would cut these benefits by raising the retirement age for Social Security and the eligibility requirements for Medicare and Medicaid.
"Congress must let the Bush tax cuts expire for the wealthiest 2 percent and Congress must make no cuts to Social Security, Medicare or Medicaid," said Trumka.
Photo: Supporters at an Obama campaign rally in Gambier, Ohio, Nov. 3.AP