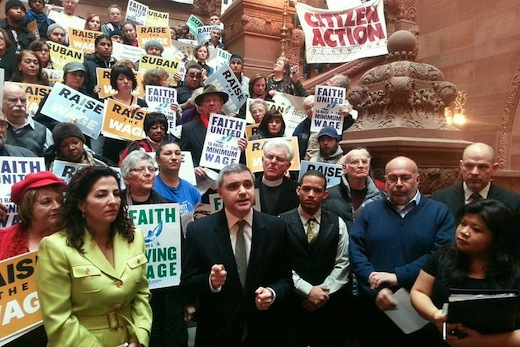 ALBANY, N.Y. – A coalition of organized labor, community activists, and religious groups demonstrated support Jan. 29 for legislative initiative to increase the minimum wage in New York State. The minimum wage for nonexempt employees in the state is currently set by the federal minimum wage of $7.25 per hour. Although other states have set minimum wages above the federal minimum, New York lags behind in the effort to ensure a living wage is paid to all workers supporting themselves and their families.
New York Governor Andrew Cuomo proposed setting the minimum wage at $8.75 effective July 1 in his 2013-14 budget. Employers argue that increasing the minimum wage will exacerbate the unemployment problem. CBS6 (WRGB-TV) reports that state Senator James Seward, a Republican from Oneonta, said, "It's not as simple as saying OK everyone will get a little more in their paycheck and that will be a good thing." This argument is refuted in studies showing that raising the minimum wage leads to higher incomes among workers affected directly by minimum-wage laws. What workers understand from necessity is demonstrated by analysis of the relevant payroll data – higher minimum wages lead to a better standard of living for workers.
Cuomo's proposal did not include a measure to index the minimum wage to price inflation, a measure favored by progressive advocates for better labor standards. Mario Cilento, president of the New York State AFL-CIO, tweeted, "It is impossible to make a living on the current minimum wage. We need a raise and indexation now!" Activists say legislation that excludes indexing the minimum wage to inflation promises future subjection of the minimum wage to a legislative process influenced strongly by employers.