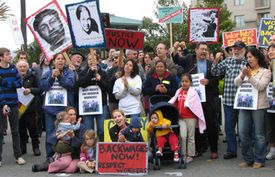 EMERYVILLE, Calif. — Drumbeats and chants echoed through this city's upscale shopping hub May 3 as hundreds of protesters rallied in front of the Woodfin Suite Hotel to support 12 immigrant workers unjustly fired after they demanded their rights under a living wage law. Rally participants also supported the boycott of the hotel announced by workers and community leaders last December.
Longshore workers, teachers, building trades and city workers were there, together with religious, immigrant rights and other community organizations.
"When the living wage ordinance was approved, that's when we started having problems," Guadalupe Gonzalez, a longtime Woodfin housekeeper who was fired, said before the rally. "They started scrutinizing our work more closely, bothering us about little things. When we turned in petitions demanding the hotel follow the living wage ordinance, that's when things got really sticky."
Gonzalez later told the crowd, "This is the only hotel in Emeryville that has not complied with the living wage law. They are cold-hearted and don't want to give us what is our right."
Before joining dozens of labor and community leaders who were arrested for blocking the intersection in front of the hotel, Alameda County Central Labor Council head Sharon Cornu pledged the labor movement's support "until we get justice for these workers." Area Assemblywoman Loni Hancock declared, "I'll be with you however long it takes. You have right on your side."
The protest was the latest in frequent actions at the hotel. The labor conflict arose after Emeryville passed a hospitality industry living wage ordinance in November 2005. When, months later, workers told the City Council they were not being paid according to the ordinance and petitioned management demanding their living wage, Woodfin threatened workers with firing over alleged Social Security no-matches, though such findings are not a legal basis for termination. Despite public pressure, City Council actions and legal rulings holding off the firings, last month the hotel terminated 12 housekeepers, though the city demanded they stay on the job until May 7 so it could complete an investigation.
The hotel's actions show the hypocrisy of current federal immigration policy, said Amaha Kassa, executive director of the East Bay Alliance for a Sustainable Economy, the main organizer of the protest. "As long as workers are quiet, it's OK," he said. "but when they demand their rights they are kicked to the curb."
mbechtel @pww.org