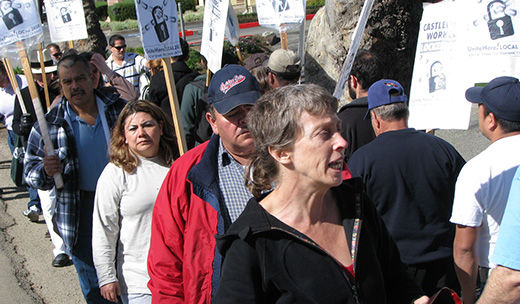 As they do every Labor Day weekend millions are firing up the grills for the last big summer holiday. The economy is giving workers a lot more to think about, however, than burgers, football and car races. And the latest unemployment figures, up to 9.6 percent, officially, from 9.5 percent last month are only one of the big concerns.
First, the worry about jobs: People like many of the janitors who live in California, for example, will be lucky if they can pay the September rent after the barbecue, if they have one at all this weekend.
Two weeks ago, in Los Angeles, custodial contractor ABM laid off janitors who clean Century Plaza Towers and 2000 Avenue of the Stars, both owned by JP Morgan Chase and both home to some of the richest tenants in L.A.
In protest, two weeks before their Labor Day weekend, 57 of their co-workers at Century Plaza walked off the job. They had difficulty understanding why JP Morgan, a company that took $95 billion in taxpayer bail-outs that they helped fund, was laying off their friends.
There are many signs this Labor Day that America's workers are losing ground. The official unmeplyment figure of 15 million, when you count those who have given up their job searches and those who have taken poverty-wage part-time work, is more like 25 million. In addition, at least a quarter of the jobless have been out of work for more than a year and the Labor Department's Sept. 3 report showed no real growth in private sector jobs.
Nationally, there are only 2.9 million job openings for those 25 million people.
"There's this enormous backlog of unemployed workers," said Heidi Sherholz, a labor economist also with EPI. "This is a hellish musical chairs. There's one chair with one job, and four people left with nothing."
Then there's another big challenge this Labor Day – one often overlooked because of the severe unemployment crisis. People who are working face an unprecedented collapse in wage growth.
"Wages are growing at less than half the rate at which they expanded immediately prior to the recession and the deceleration occurred across almost all major occupational groups," said Larry Mishel, president of the Economic Policy Institute. "And with unemployment expected to remain elevated for many years to come, we do not expect the suppression of wage growth to ease any time soon."
This latest trend of slower-than-ever wage growth compounds what was already a long standing problem of wages growing more slowly than productivity.
During the last expansion for business in the country, which began in 2002 and lasted until the start of the recession in 2007, productivity grew but hourly compensation for workers fell.
The jobs that are open are at the very bottom of the wage scales. They pay closer to the federal minimum wage of $7.25 an hour than to the May, 2009 median wage of 15.95 an hour.
The pressure that working full-time and still having to live in poverty puts on workers is enormous. Around the country, however, even on this holiday weekend, many are putting up a fight.
2000 low-wage food service and hospitality workers at Hyatt hotels walked off the job on Sept. 2 and 3 in Chicago, Los Angeles, Honolulu and Toronto. They were protesting not just frozen wages but staff cuts, reduced hours and excessive injury rates. Anne Marie Straessel, a spokesman for their union, Unite Here, said "the huge profits Hyatt is raking in show they are clearly taking advantage of this recession to squeeze their workers." The company, she said, is stalling on talks with the union and workers at many of the hotels are working without contracts.
The labor movement has decided that the first step in containing and hopefully turning around the crisis for workers is preventing a Republican takeover of the Congress in the 2010 mid-term elections. They plan to dramatize this by joining with a coalition of civil rights and economic justice groups in a march on Washington Oct. 2 where hundreds of thousands are expected to turn out. Going into the Labor Day weekend 6,000 buses were already reserved. Filling that many buses alone translates into 300,000 marchers.
Steelworkers are among the many union members knocking on doors, telling union voters what they believe is at stake: moving forward or going backward. Denny Lauer, a member of the Steelworkers, Local 2-1229 in Green Bay, Wisc., said he is knocking on doors to urge re-election of Democratic Rep. Steve Kagan. "He's a physician who has been with us on every important piece of job-creating legislation," Lauer said.
Despite all the difficulties and challenges, however, Labor Day is the time when millions of workers put out their American flags to display the love they have for their country.
Richard Trumka, president of the AFL-CIO, at the federation's Labor Day press conference, took note of this and blasted "the corporate traitors who hurt this country by shipping good paying jobs overseas.
"Patriotism means more than lip service," said Trumka. "It means taking action to ensure that working people have the good jobs they need to support families – creating an environment worthy of the American dream."
Photo: Marilyn Bechtel