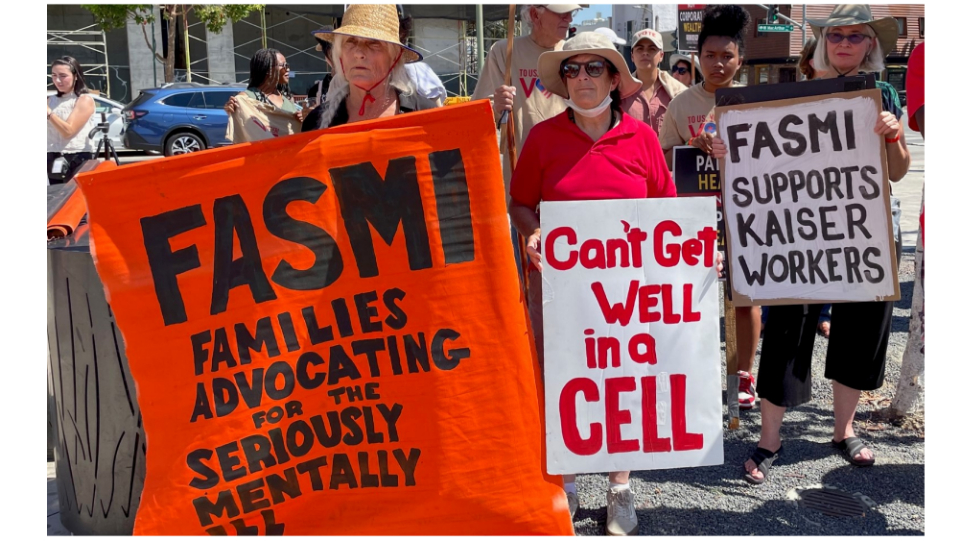 OAKLAND, Calif.—As over 2,000 Kaiser psychologists, social workers, and therapists entered the fourth week of the longest mental health strike in U.S. history, hundreds of clinicians, elected officials, patients, family members, union leaders, and community supporters rallied outside Kaiser Permanente's flagship Oakland Medical Center on Labor Day to demand the giant HMO staff up to meet its patients' needs for timely, quality mental health care.
The clinicians also reiterated their calls for Kaiser to return to bargaining for the first time since the strike began Aug. 15.
And on Sept. 6—the very next day—Kaiser did indeed ask the clinicians' union, the National Union of Healthcare Workers, to return to the bargaining table. Talks resumed Sept. 7.
Before the strike began, the clinicians had already accepted Kaiser's proposal for their compensation, but they insist that their contract must address understaffing and unmanageable workloads by hiring and maintaining enough clinicians to meet the legal standard of follow-up visits within 10 business days unless the provider deems that unnecessary. The clinicians maintain that Kaiser, with over $54 billion in reserves and an $8.1 billion profit in 2021, has he resources to provide for its patients' mental health needs.
Amid rousing cheers, solidarity honks from passing motorists, and chants of "One Day Longer, One Day Stronger," and "What's This About? Patient Care!" clinician Sabrina Chaumette told the Labor Day crowd that before the strike started, the next available appointment she could offer was in mid-November.
Chaumette told how before the strike, she had seen three teenage patients in the Emergency Room. All had attempted suicide.
"They were struggling with social isolation, returning to school from video-school, and they needed support," she said. "I was heartbroken, as a parent, to have to tell another parent, 'I am so sorry—I don't have anybody who can see your teen next week, except a crisis appointment.'"
Chaumette called Kaiser's mental health program "inadequate—it's a little bit of mental health care marked by long waits between appointments," with care ending early though evidence-based care would last longer.
"Imagine you go to your primary care doctor and you have an infection, and they tell you, 'You need a 10-day antibiotic—at least that's what the literature says—but we're only going to give you five days of antibiotics. Good luck, and watch a video.' That's how Kaiser treats mental health."
David Brown shared the heart-rending story of his gifted daughter, Elizabeth, who after the family's repeated efforts to secure care for her through Kaiser, ended up taking her own life.
"I don't know how you can care for your patients when you can't see them," Brown told the clinicians. "You need more therapists, more caring psychiatrists … Let's turn the care for brain illness around."
Patient Laura Bramble, who at an earlier rally told of her struggles to receive needed mental health care from Kaiser, declared, "Today, I am about to make some good trouble!"
"First," she said, "whether you are a patient, a family member, an employer paying premiums—if you are a member of society who simply recognizes this social injustice, this illegal action, call the Department of Managed Health Care. File a complaint.
"Second, press Governor Newsom to force Kaiser to accede to what our therapists need—to hire more therapists and to create reasonable and balanced working conditions.
"Third, join therapists on the strike lines!"
In the crowd were several area city councilmembers. One, Oakland City Council President pro tem Sheng Thao, shared her own experiences when her son was experiencing anxiety and she sought help at the Oakland Medical Center. "They gave me a phone number. And when I called that phone number, they told me six months out for an appointment. Unacceptable! He was feeling so much hurt from what was going on in his head.
"As a mother," Thao said, "I felt helpless! But the biggest HMO organization here in the East Bay said they couldn't help us."
The San Francisco Labor Council's Executive Director Kim Tavaglione told the strikers that "all of labor in California" is standing with them: "You all are our heroes, for being out here for four weeks and trying to change a system riddled with greed and profit."
She called on northern California cities and counties to hold hearings on Kaiser's practice of sending mental health-challenged people to emergency rooms at county hospitals at taxpayer expense, while the HMO rakes in profits.
NUHW President Sal Rosselli expressed heartfelt appreciation to the patients and family members, elected and community leaders standing in solidarity with the NUHW clinicians.
"Please know how proud I am to be a leader of this union with all of you," he told the strikers. "And I'm even prouder to be a follower of your leadership to force this largest and most profitable HMO in the country to provide parity for mental health care."