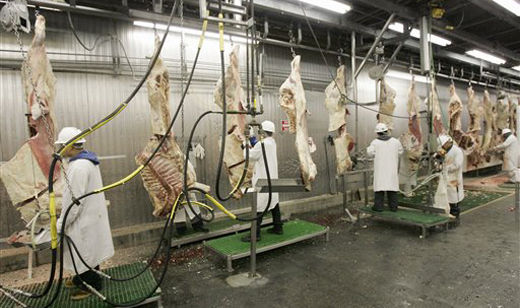 Coming off a year in which it levied the largest fine in history against any corporation, President Obama's Labor Department says it will use next year's budget, which is no larger than this year's, to actually increase its enforcement of worker safety rules.
The department allocated 100 new inspectors for its Occupational Safety and Health Administration this year and is planning to add 25 additional OSHA inspectors next year.
In order to do this without a budget increase, the Obama administration plans to slash 35 positions the Bush administration had allocated to OSHA's "compliance assistance program" for businesses.
A federal audit commissioned by the Obama administration this year showed that the Bush-designed OSHA program, geared to "helping" businesses comply with safety laws, was not working.
Funds shifted out of the "compliance assistance" programs will also be used to increase OSHA's Wage and Hour protection programs.
Describing the new approach earlier this week Labor Secretary Hilda Solis said, "It affirms this administration's strong commitment to vigorous enforcement. OSHA received over 100 inspectors in our 2010 budget, as well as an additional 25 requested in 2011 and we are moving 35 inspectors from compliance assistance to enforcement.
"With the largest fine in OSHA's history," Solis declared, "We are sending a strong message throughout industry that we will not tolerate endangerment of workers."
The secretary said OSHA will "concentrate on high risk workplaces like construction and meatpacking."
She made it clear that the administration, in its effort to protect workers, will go beyond just beefing up OSHA and its enforcement activities.
In her announcement Solis said the department plans a major effort to investigate firms that misclassify their workers as "independent contractors."
The "independent contractor" misclassification, common in industries ranging from construction and trucking to transportation and even retail, leaves workers without labor law protection, workers' compensation or unemployment protection and liable for payments to Medicare and Social Security.
The Teamsters and the Laborers are just two of the unions who have led major battles against the "independent contractor" dodge.
The proposed new Labor Department budget actually sets aside $25 million and 100 new enforcement personnel "to be used by the Department of Labor and the Treasury Department to identify and penalize employers who improperly misclassify employees as independent contractors."
The administration has gotten so serious about this that the Labor Department budget also funds competitive grants for states that initiate their own programs that help end the misclassification problem.
"The goal is to improve capacity to identify misclassification through increased information sharing and targeted audits in high-risk industry sectors," said Jane Oates, assistant labor secretary for employment and training. "These efforts will prevent misclassification, increase statutory enforcement where appropriate, and enable collection of payroll taxes previously lost due to misclassification, such as in the unemployment insurance program."
The plan, she said, is for inspectors to concentrate on companies that pay misclassified workers less than the minimum wage, or fail to pay them overtime.
There will be $1.7 billion available, a $67 million increase, for worker protection agencies overall, a department fact sheet says, "to make sure the agencies have the resources to meet their responsibilities under the more than 180 laws they enforce."
That figure includes $573 million for OSHA, up $14 million from this year that will be used to add 60 additional enforcement staff who will conduct 9 percent more inspections.
The result will be 42,000 federal job site inspections, up from 38,000, according to the fact sheet.
Photo: At the Cargill meat packing plant in Schuyler, Neb., July 8, 2008. According to OSHA, meat packing is a hazardous job with high injury rates. Nati Harnik/AP