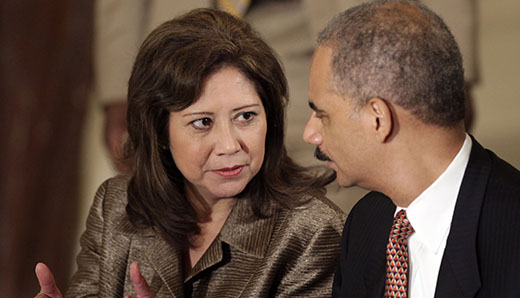 Among at least 20 new rules President Obama's Labor Department plans to introduce in the new year is one that would require companies to file financial disclosures on their union-busting activity.
In a series of web chats over the last few weeks, Labor Secretary Hilda Solis has been pledging that 2010 will be a year in which her agency steps up what is already regarded as a strong effort by the department to go to bat for workers.
Solis is saying, in those web chats, that the efforts will involve not just new rules but stronger enforcement. To that end, the Labor Department is hiring 100 additional inspectors.
"The department's emphasis will be on green jobs, on more enforcement, protection of workers, and helping returning veterans receive employment assistance and job training," the Secretary of Labor says in one message, "but, in addition, we have 22 new regulatory items on the agenda."
Forcing companies to make more disclosures regarding their union busting is perhaps, one of the most important changes that the department plans.
Solis notes that companies have actually used loopholes in existing law to avoid such disclosure. "Under the Labor-Management Disclosure Act," the 1959 GOP-passed Landrum-Griffin law, "an employer must report an agreement with a consultant hired to persuade employees as to their collective bargaining rights," Solis said.
The law allows employers, however, an exemption if the consultants are merely "advising" the employers on these matters. Solis says, "The exemption is overly broad because indirect efforts to persuade are considered 'advice' and are not reportable under the current interpretation of the exemption."
In one of the on-line chats Deputy Assistant Secretary for Labor-Management Standards John Lund talked about how the department has already actually pulled back additional disclosure requirements that the Bush administration had put on unions, particularly teachers unions and other public sector unions.
"This matter has not been finally decided. The issue is under consideration and will be the subject of an open and transparent rulemaking process," he said.
Earlier this year the Labor Department nixed plans hatched by the Bush administration to impose additional disclosure rules on individual union officers and shop stewards. Bush wanted to force these individuals to provide line-item spending reports and to include in those reports everything from paychecks to paper clips used for union-related activity.
Another rule change the Labor Department wants to make would create a separate ergonomic job injury log in Occupational Safety and Health Administration reports. Companies would be required to faithfully maintain these logs and send copies of them to OSHA.
There was such a rule in the past but the very first piece of legislation signed into law by President Bush, passed by a GOP Congress, eliminated that rule.
Ergonomic injuries, repetitive-motion injuries and musculoskeletal disorders, amount to a third of all on-the-job injuries.
Another planned change is the hiring by the Wage and Hour Division of 250 new investigators. The division will focus on industries with high violation rates and large numbers of "vulnerable" workers, according to Deputy Administrator Nancy Leppink in her on-line chat.
The industries Leppink referred to include agriculture, restaurants, janitorial, construction and car washes.
She said her division is trying to make it easier for workers to report wage and hour violations, including failure to provide overtime pay and underpayment of minimum wages or Davis-Bacon wages.
To make it easier, "because workers are fearful of losing their jobs in this economy and therefore less likely to file complaints when they are cheated," Leppink said complaints can be filed by third parties, "as long as the third party has sufficient information to indicate a probable violation.The third party complainant can call the Wage and Hour office or the toll-free helpline at 866-4US-WAGE."
Still another new regulation the department plans is one that orders coal mines to reduce miners' exposure to coal dust, a documented cause of "black lung" and other diseases.
The present rule, setting a limit of 2 mg. of coal dust per cubic meter of air, was set in 1972. A 1995 federal study, which the Bush administration never acted on, called for a lower limit and listed proposed tougher enforcement actions.
Photo: AP Alex Brandon
Secretary of Labor Hilda Solis, left, talks with Attorney General Eric Holder, before President Barack Obama signs a proclamation celebrating the 19th anniversary of the Americans with Disabilities Act in the East Room at the White House in Washington Friday, July 24, 2009.