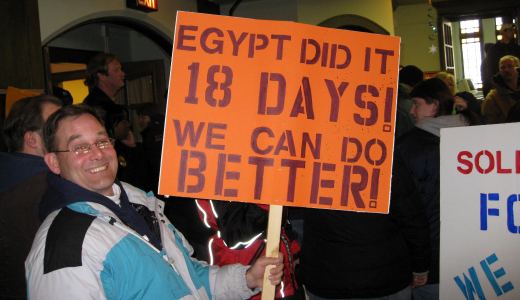 LANSING – Following in the footsteps of their Midwest brethren, Michigan labor gathered here Feb. 22, determined to stop the onslaught of anti-labor bills and budget cuts Republican majorities in the Statehouse and Senate are throwing at them and the people of this state.
Building trades workers converged to stop a bill aimed at curbing prevailing wage. Public and private workers unions came to lobby against HR 4246, a bill that would allow the state to appoint emergency financial managers (EFM) or "firms" to run cities and towns whose budget deficits have risen due to the economic crisis and cuts in state revenue sharing. Instead of helping struggling communities get back on their feet, the bill will put the power to control local schools and local finances into the hands of a private individual or a private company.
The bill would do away with collective bargaining rights for public workers.
American Federation of Teachers Michigan President David Hecker told the crowd, "We thank you for standing up for yourselves, your families, your communities, and we're not going to let them get away with what they are trying to get away with.
What was expected to be a lobbying effort of just a few hundred became five times that number as labor from throughout the state converged to press their elected officials.
At one point, word was the Statehouse building had been temporarily closed as clogged hallways and elevators could not handle the crowd.
Speaking to Governor Rick Snyder's recently released budget of cuts and pain, Rep. Rashida Tlaib, D-Detroit, told this reporter, "When they talk about shared sacrifice, I don't know that this is actually shared sacrifice. I've never seen my own community this engaged on the state budget issues."
She urged constituents to keep coming back. "This budget proposal could completely change depending on how active they are."
After lobbying representatives and senators, the demonstrators filed over to the Capitol to witness debate – or unfortunate lack thereof – on the Emergency Financial Manager bill.
From the House floor, Rep. Woodrow Stanley, D-Flint, said the purpose of the EFM was "to void collective bargaining agreements that had been negotiated in good faith."
A series of Democratic attempts to improve the legislation through amendments were voted down on a strict party line vote: 46 Democratic votes for and 62 Republican votes against.
Republican legislators, the same ones that demand leaner workforces and harsher work rules, seemingly "fiddled," leaned back in their chairs and engaged in trivial conversation with their colleagues.
It was not lost on this labor crowd.
As the amendments went down to defeat one after another, a UAW member from Grand Rapids sitting next to me said, "at least they know we are watching."
Yes they do. Word was the 1,000 people who had come had left quite an impression.
On the bus ride back to Detroit, Ruby Newbold, President of the Detroit Association of Educational Office Employees and an AFT Vice President, reacted to the day's events, saying, "Given what they just did, Detroit is going to be next. I wonder where they are going to find the money to resolve all of our issues; I hope it is not on the back of our public workers."
Detroit already has an Emergency Financial Manager for its schools. Newbold reacted angrily to the state's draconian call for the Detroit Public Schools to close half of its schools and allow class sizes of 60 students in high school. "If they tear DPS down like they are talking about, we won't need an EFM, [the school system] will be gone.
"We need more to keep coming up until it hits them in the face. When we go back and talk to our family, friends and neighbors, we need to stress to them that this is not just a labor issue. This is a public issue, this is a Detroit issue, this is everybody's issue. They are not going to believe what we saw today.
"It's time for Michigan to fight because if we don't, we are going to be flushed right on down the sewer," Newbold concluded.
Photo: John Rummel/PW