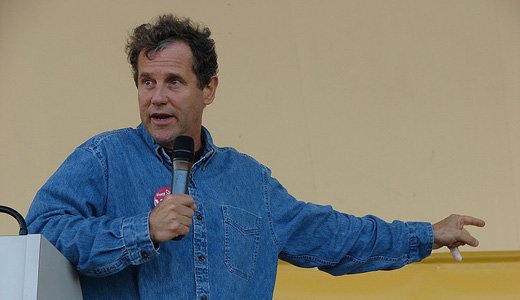 WASHINGTON – As 2012 began, Republicans were confident they could sweep into complete control of the U.S. government. It hasn't worked out that way.
They were coming off a 2010 landslide that not only gave them House domination, but also yielded them enough Senate seats so that their filibusters could stop anything Democratic President Barack Obama proposed.
And they had elected so many governors and state legislators that they could not only jam their Radical Right agenda through, but also control redistricting, the once-every-10-years process where state lawmakers – in most states – redraw legislative and congressional district lines, locking themselves and their party into partisan rule.
There was one big danger signal, however, which the GOP ignored: Public disgust. And it's come back to haunt them.
The extremism of the Tea Party-controlled House GOP and its refusal to do anything – except under duress – for suffering workers and underwater homeowners drove positive opinion of Congress to record lows, approaching single digits in public polls. It's never really recovered.
That environment gives workers and their allies an opening, and they've taken it. They argue that Congress has been so obstructionist that voters should turn against incumbents, especially incumbent Republicans.
Democrats, especially pro-worker Democrats, tied the GOP to the Tea Party, the Radical Right and to Wall Street, in a year in which the Occupy movement forced discussion of the yawning gap between the rich and the rest of us onto the national agenda. That let Democrats draw even in the contest for Senate supremacy.
The House is another matter. Redistricting turned into a wash: Democratic gains in Illinois, Arizona and California are offset by pro-GOP maps in Pennsylvania, Michigan, North Carolina, Virginia and Ohio.
Unions and their allies are mobilizing people – and sometimes money – in hotly contested House races nationwide. One prominent one: Minnesota's 8th District in the normally Democratic Iron Range now held by former pilot Chip Cravaack. But a 25-seat U.S. House pickup for the Democrats, putting them back in the majority, is something that will require a tough fight. And, in a few cases labor is backing Republicans who have bucked the GOP's anti-worker line. The Missouri AFL-CIO, for example, has endorsed Republican Rep. Jo Ann Emerson.
Democrats now hold a 51-47 lead in the Senate, with two independents who caucus with the Democrats. They are defending 21 seats, plus both independents, while the GOP is defending only 10. Senate control is particularly important if Republican presidential nominee Mitt Romney beats Democratic incumbent Barack Obama on Nov. 6. The GOP was confident it would get that control, but then things started going haywire, producing many Senate races to watch. They include:
* Virginia. Former Governor and Democratic National Chairman Tim Kaine has apparently pulled narrowly ahead of former Governor and Sen. George Allen, who lost this seat six years ago. It helps that Virginia is a swing state, with both parties and both presidential candidates devoting a lot of time and money to wooing its voters.
The key may be labor's efforts in populous, Democratic-trending Northern Virginia. The Northern Virginia Central Labor Council, the Laborers, and Labor's Council for Latin American Advancement are all engaged in a massive voter registration, education and protection drive, to ensure that the region's voters include its rapidly growing Latino population, as well as unionists and other pro-worker voters.
* Indiana, Maine, Nevada and Arizona. At the start of the year, the GOP was very confident it could hold at least nine of its 10 incumbents, with only two-year Sen. Scott Brown in deep blue Massachusetts expected to be in trouble. But then Sen. Olympia Snowe, R-Maine, disgusted at congressional gridlock, retired, and Indiana State Treasurer Richard Murdock, an extremist Tea Partyite, beat incumbent conservative – but collegial – Sen. Richard Lugar in the Republican primary. Rep. Dean Heller replaced scandal-scarred Jon Ensign in Nevada and found himself in a tied race with Rep. Shelley Berkley (D), who is dogged by an ethics probe.
Now independent Angus King, a former Maine governor expected to caucus with the Democrats, leads there. Murdock's extremism soured many independents and Lugar supporters, opening the way for underdog Rep. Joe Donnelly (D) to pull off an upset. Labor has an additional incentive in Indiana: Retaking the state House, where the Tea Party-fueled 60-40 GOP majority pushed through a so-called "right to work" law.
An expected, GOP Arizona win is now a tossup. The two most recent polls split: One has surgeon Richard Carmona (D), who is also a combat veteran, leading by 2% over Rep. Jeff Flake. The other gives Flake a 2% lead. Republican Sen. Jon Kyl is retiring. Latino turnout may be key in Arizona and Nevada, along with voter ID laws in Arizona.
* Democratic-held seats in Republican states. At the start of the year, the GOP was confident it could easily grab Democratic-held seats in Montana (Jon Tester), North Dakota (open) and Nebraska (Ben Nelson) as well as in two swing states, Florida and Missouri, which saw GOP state-level landslides in 2010. But with three weeks to go, only the Nebraska Democratic seat is gone, to a conservative Republican female state lawmaker who was not the Tea Party-backed candidate.
In North Dakota, former state official Heidi Heitkamp (D) is in a dead heat with 1-term GOP Rep. Rick Berg. In the very rural, very Red state, Heitkamp shows her independence from the president by being an outspoken supporter of the Keystone XL oil pipeline. Construction unions back the 1,700-mile Canada-U.S. project, which would be built with union labor and create up to 20,000 jobs. And Heitkamp has hit Berg for the GOP's failure to pass a farm bill – or even drought relief.
In Missouri, Rep. Todd Akin, the Tea Party favorite, won a bloody 3-way GOP primary to challenge Sen. Claire McCaskill (D). He then sabotaged his own campaign with crazy characterizations about women and rape. To general amazement, Akin's still closely behind McCaskill. The Tea Party and the Radical Right, led by former GOP presidential hopefuls Newt Gingrich and Rick Santorum, are still both with Akin.
* Wisconsin. This is the second seat in a leaning Democratic state that's up for grabs, along with Massachusetts. Incumbent Democrat Herb Kohl is retiring and Rep. Tammy Baldwin (D), who if elected would be the first openly lesbian senator, is in a tied race with former moderate GOP Gov. Tommy Thompson.
Thompson's no Tea Party favorite in a state that was ground zero the last two years for the Radical Right's vicious campaign to destroy unions. Labor is going all-out for Baldwin. But after GOP Gov. Scott Walker and the GOP legislature smashed public workers' collective bargaining rights, Wisconsin unions lost thousands of members.
* Other notable races: Ohio incumbent Sen. Sherrod Brown (D), an unapologetic pro-worker progressive, leads State Treasurer Josh Mandel, another Tea Party favorite. The one wildcard that could upset this race is money. Radical Right groups are spending millions on ads against Brown, trying to neutralize his support for the auto rescue and opposition to jobs-killing "free trade" pacts. Labor is mobilizing members.
Massachusetts GOPer Scott Brown, using his red pickup truck as a prop to offset his mostly pro-business voting record, is tied with Democrat Elizabeth Warren. The race is so important the AFL-CIO put Massachusetts on its list of top states this year, and fed President Richard Trumka told campaign workers they must convince white men not to oppose Warren because she's female, a Harvard professor, or both.
Hawaii will elect its first female senator this fall. In the union-heavy, pro-Obama state, Rep. Colleen Hanabusa (D) has a 55%-39% lead over former Gov. Linda Lingle, their strongest candidate. Expected strong GOP challenges to Sens. Amy Klobuchar (D-Minn.) and Debbie Stabenow (D-Mich.) have apparently fallen flat, while one to Bob Casey (D-Pa.) never got off the ground.
Photo: Sen. Sherrod Brown. Bernard Pollack/AFL-CIO // CC 2.0