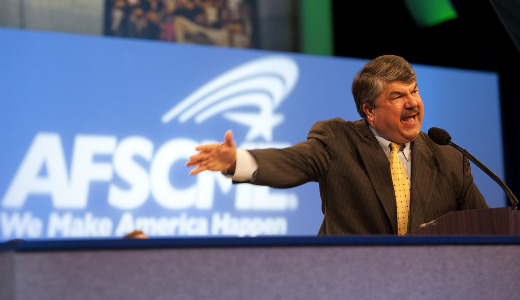 WASHINGTON – The nation's labor leaders, meeting here this week, are hammering out a plan they hope will prevent what one described as "the nightmare" that would result from a Republican takeover of Congress in November's elections.
Leaders of the AFL-CIO, convening for their executive council meeting, say every union member registered to vote in selected "battleground states" will receive a personal visit at home or at the workplace, outlining the stakes for workers in preventing the Republicans from taking control of either the Congress or the Senate on Election Day.
The final list of battleground states will be determined this week. Judging by the local union leaders gathering at a special Central Labor Council Battleground Meeting here Monday, the list is sure to include Ohio, New York, Pennsylvania, Illinois, Michigan, Minnesota, California and Florida.
If the labor leaders plan succeeds, tens of thousands will march on Washington on Oct. 2 to demand massive jobs creation programs and will then return to their homes as energized participants in a massive get-out-the vote program.
The meetings here this week of local labor councils and state AFL-CIO federations from key election states are unprecedented.
The fact that they have gathered in the nation's capital to confer on election strategy with the AFL-CIO executive council, made up of leaders of 60 national unions, shows the seriousness with which labor takes the coming mid-term elections.
President Obama will address the union leaders in a live video conference later in the week. The president spoke at the AFL-CIO convention in Pittsburgh last September and Vice President Joe Biden has attended two executive council meetings since the 2008 elections.
"We are here because we have to make sure union members know the stakes, that they know the whole story," said Gail Marie Perry, chair of the Communications Workers of America Council of Florida. Perry, who is also that union's chief lobbyist for the state of Florida, is working to elect Kendrick Meeks, the Democrat, to the U.S. Senate. "Who do workers want representing them in the Senate?" Perry asked. "Is it going to be someone who represents their issues or is it going to be someone who made his money foreclosing on their homes?"
Perry said she felt the commercial media are a major reason the labor movement has difficulty in getting its message through to voters, while "all the tea party has to do is round up a few people and they make the news."
She said labor's effort to get workers and the general public to understand the issues is critical "because at a tea party rally I went to there were seniors, retired workers, who were confused about who is really out to cut their Medicaid and their pensions. We are devising a plan this week to get out the other side, to get out the truth. We cannot leave workers without information. We cannot leave them to the tea party."
Labor leaders here admit there have been some disappointments with President Obama and the Democrats since the 2008 elections. Bany had hoped that by now the Employee Free Choice Act would have been passed and that health care reform would have been stronger, for example. But they appear determined to not allow any of that to divert their effort to prevent a right-wing takeover of Congress in November. If the Democrats lose, they note, Republican congressmen and tea party favorites John Boehner and Eric Cantor would be running the House of Representatives.
Union leaders believe that with a full mobilization of labor's forces they can prevent this from happening. They point to the fact that when they went all-out in 2008 they turned out a vote that amounted to 25 percent of the total vote the president received.
The CLC and state federation leaders gathered here are not in total agreement on every major issue labor faces in the coming election. But they are unanimous in their belief that unions will have to do everything in their power to prevent a Republican takeover of Congress this year. Such a takeover would be a nightmare for workers, they say.
They cite these examples:
Labor law reform and workers' rights in general would be stalled for a long time.
Any hope that further improvements could be made in health care reform would be lost. Many want to continue the fight for single-payer health insurance, a fight they say is even more achievable now that some major health insurance reforms have already been won.
A GOP resurgence would leave millions of jobless with no unemployment benefits or other assistance, regardless of the harm that would cause for long-term economic recovery.
A Republican takeover would also result in the unpopular and disastrous Bush tax cuts for the rich becoming permanent, and public service jobs would be further slashed.
Photo: AFL-CIO President Richard Trumka addresses the American Federation of State, County and Municipal Employees convention, June 29 in Boston. (AFL-CIO, cc 2.0)