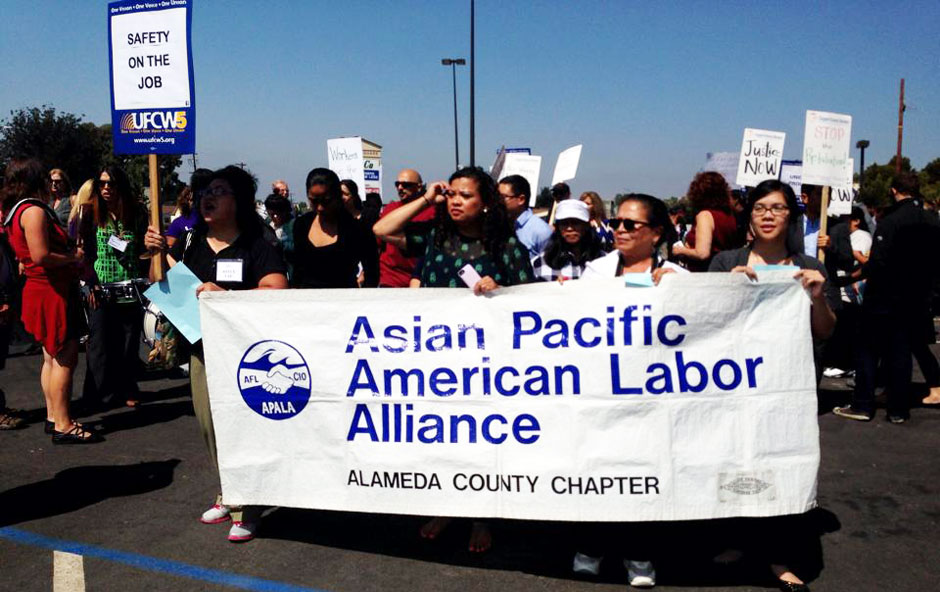 ORANGE COUNTY, Calif.- The headline in the online site Here and Now read: "California Democrats hope Asian-American voters can help flip red districts."
Alvina Yeh agrees, from labor's point of view, but adds the Dems – and the GOP – don't know how and don't want to reach those voters. She says labor is stepping into the void. In her organization's case, that's in five key swing states: California, Minnesota, Nevada, Virginia and Pennsylvania.
And Asian-Americans can make an electoral difference, says Yeh, executive director of the Asian-Pacific American Labor Alliance (APALA). Indeed, two years ago in Nevada, the winner of a tight U.S. Senate race there, Democrat Catherine Cortez Masto, said "APALA and Asian-American media were critical" for her win.
So APALA, the AFL-CIO's constituency group for Asian-born and Asian-American workers, is stepping up, she said in a telephone interview. A new report says that, on issues, it's got a lot to work with.
The report says Asian-Americans are concerned – and agree with organized labor – on core labor issues. And majorities of Asian-Americans distrust the GOP and can't stand anti-immigrant GOP President Donald Trump.
The Asian-Americans support better working conditions (90 percent support), freedom from harassment and exploitation on the job (88 percent), high-enough wages to let them support their families, access to affordable and quality health care (86 percent each) and retirement with dignity (84 percent). Those percentages cover potential voters who call those issues "important" or "very important" this fall.
They view the Democratic Party favorably by a 58 to 28 percent margin, it says. The GOP loses, 34 to 52 percent. House and Senate Democratic candidates, by name, roll up similar margins among Asian-Americans.
Trump does even worse: 36 percent approval-58 percent disapproval. Only Vietnamese (64-32) like him. Japanese and Japanese-Americans don't: 14 percent for, 72 percent against. They, with a sense of history, remember being interned, or their parents and grandparents being interned, in government camps, during World War II.
The survey, for five weeks through Oct. 4, was of 1,316 Asian-American registered voters and had a sampling error of plus or minus four percent.
But while Asian-Americans share the attitudes and priorities of the rest of the country about "traditional bread-and-butter issues," along with opposition to the GOP and Trump, Yeh says they don't realize the labor movement does, too.
"Only four percent of Asian-Americans are very familiar with unions' role" in campaigning for those issues, and "another 28 percent are somewhat familiar."
That leaves an opening for APALA "to educate the community more broadly. There's space in general" for APALA "outside the political parties," Yeh explains. "The parties are taking Asian-Americans for granted. They don't want to spend the time or the money talking with Asian-Americans."
So APALA is building on its prior "strong election operations," despite its relatively small size, to expand both Asian-Americans' political clout and its own reach. It's got a growing universe, to work with.
Census figures show Asian-Americans are the fastest-growing U.S. minority. As of last year, there were 21.4 million Asian-Americans and 1.5 million Pacific Islanders in the U.S., or more than seven percent of the entire population.
And the Bureau of Labor Statistics reports that last year 763,000 Asian-Americans were unionists (8.9 percent), and unions represented another 80,000.
In California, one of APALA's five target states, the group has just plain sheer numbers to work with: One of every seven residents of the Los Angeles metro area, almost one of four in San Francisco-Oakland, 31 percent in San Jose and 12 percent in Sacramento, for starters.
But right now, "Nevada is our biggest program," Yeh says, with 30,000 door-to-door house visits and more than 80,000 phone calls already concentrating on the election. Most of them, as might be expected, are in Clark County (Las Vegas) and its Washoe County suburbs.
The object is to elect a new pro-worker Democratic governor and legislature and to oust GOP Right Wing Sen. Dean Heller in favor of pro-worker Democratic Rep. Jacky Rosen.
Pennsylvania APALA reps work in coordination with three community groups, both on campaigns and on longer-term issues affecting Asian-Americans. In Minnesota, APALA hooked up with the Asian-American Organizing Project serving the Hmong. In northern Virginia, they're hitting the hustings to oust pro-Trump anti-immigrant GOP Rep. Barbara Comstock in a district with a rapidly growing Asian-American population.
But Philly and the Twin Cities may be future models for APALA action, Yeh adds. Right now, APALA members concentrate on voter outreach, but they don't intend to let up after Nov. 6. But it won't stop there, and it won't stop after the election, she adds.
"From what we've heard, after two years of anti-immigrant, anti-worker attacks, our community is paying attention – and is not happy about that (barrage), either," she says.