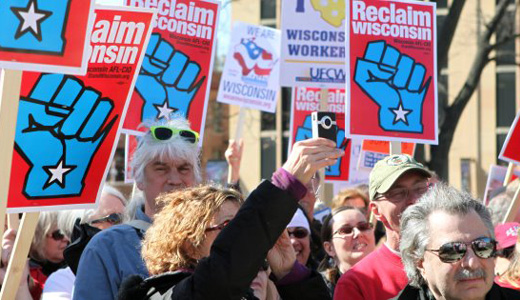 MILWAUKEE (PAI) — With the bitter recall election against right wing Wisconsin GOP Gov. Scott Walker coming down to the wire, his foe, Democratic Milwaukee Mayor Tom Barrett, called for outstanding labor support to win and "fix Wisconsin."
Unions nationwide put out a call to their members to help the Wisconsin AFL-CIO mobilize against Walker any way they could, including by making "phone bank" calls* from their homes, offices and union halls in other states. The ground troops union efforts, especially worksite visits and phone banks, counter** the $31 million ad blitz by Walker, his big business backers and the national GOP.
In an op-ed published May 29 in the Milwaukee Labor Press and on its website, Barrett, whom most polls show is a slight underdog against Walker in the June 5 balloting, declared that "we need a new governor to move Wisconsin forward."
"Wisconsin has been torn apart by Walker's ideological civil war and his divide-and-conquer assault on our values and our workers. And we cannot fix Wisconsin and move forward as long as Walker remains governor," Barrett added.
"It was in reference to pitting one worker against another worker in unions that Walker was caught on video tape discussing his 'divide and conquer' strategy with a billionaire donor, long before the rest of the state experienced him 'dropping the bomb,' as he later described his assault on workers' collective bargaining rights."
Walker shoved his law to kill state and local government workers' collective bargaining rights through the GOP-run legislature last year. It stripped 200,000 workers of their rights. It's part of the national war on workers orchestrated by the GOP, the radical right, the American Legislative Exchange Council and parts of big business.
Walker's divide-and-conquer strategy was also exposed when a federal judge in western Wisconsin overturned other parts of the anti-union law – and in the ruling pointed out how Walker discriminated against unions that opposed him in his 2010 narrow win over Barrett, while exempting the unions that supported him.
"Walker's my-way-or-the-highway approach to governing moves us backwards on key issues like jobs, education and women's health. And it has bitterly divided co-workers, family members and friends," said Barrett, a former Teamster at Harley-Davidson.
"Perhaps the biggest difference between your choice of candidate is how we approach tough issues. Walker staunchly refuses to listen to people He would not sit down at a table, look his workers in the eye and negotiate last year," Barrett said, referring to public worker unions' willingness to concede to Walker on financial issues in return for keeping collective bargaining rights.
Walker "turned a blind eye to hundreds of thousands of people who showed up on his doorstep at the Capitol offering to sacrifice, but asking to … keep their rights.
"These are not our shared Wisconsin values. Wisconsin now leads the nation in job loss," Barrett declared. "I am running because we can't fix Wisconsin as long as Walker remains in office. The Barrett approach will not only heal Wisconsin, respect workers and bring people together, it will focus on creating jobs, protecting education and restoring trust in government, while being fiscally responsible," he added.
After trashing worker rights, Walker also pushed through legislation with massive cuts in state aid to local schools. And he yanked the right – under state law – for women to sue when they discovered pay discrimination against them on their jobs.
A typical request came from Utility Workers President Mike Langford:
"It's absolutely critical that the Wisconsin AFL-CIO receives as much help as possible in their efforts to defeat Walker and restore the rights and dignity of the workers of Wisconsin," Langford e-mailed his members. "Defeat of Walker will send a clear message to other anti-union politicians that their days are numbered if they want to follow in Walker's footsteps.
"But if Walker is re-elected, he will be seen as a hero to powerful interests that want to destroy the middle class, and the current attack on workers will escalate," Langford warned.
"Defeating Walker will have a chilling effect on those that want to do us harm. It will once again show the middle class can stand up against powerful corporate interests and win, just like we did in Ohio by repealing" GOP-pushed legislation there that stripped almost 400,000 state and local workers – with no exceptions-of their collective bargaining rights. The law got clobbered in a referendum, 61%-39%.
"The outcome of this election will not just affect the workers of Wisconsin, it will determine the future of all middle class Americans," Langford concluded.
Photo: Wisconsin AFL-CIO facebook page.
*Readers can call into Wisconsin from home computer by signing up for the AFL-CIO FAN Tool Here
**Click here to donate online. Contributions support Wisconsin AFL-CIO member-to-member program to reach every targeted union voter in the state – it's all about turnout.