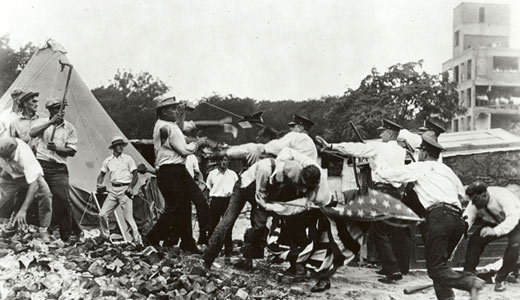 Eighty years ago today, the first "Bonus Marchers" arrived in Washington, D.C.
Millions of American veterans had returned home from the war in 1918, only to find out that the benefits the U.S. government had promised them would not kick in until 1945. As the Great Depression sunk in, many became desperate and embittered. A group of veterans in Portland, Oregon, decided to do something. Carrying a bugle and a flag and calling themselves the Bonus Army, they crossed the country, picking up other veterans as they went along.
The idea caught on, and veterans from across the country descended on Washington, the first arriving 80 years ago today, their numbers reaching 20,000 after just a week. There, foreshadowing the Occupy Wall Street movement, they set up camp, the largest shantytown in the country. The people of Washington supported the camp, bringing them food and other supplies, as well as joining in demonstrations. The Hoover administration panicked and sent the active military to break up the camp; a battle ensued.
Photos were seen across the country, and the public, outraged, pressed for action. Instead of waiting until the 1940s, the vets received their bonuses four years after their encampment was dismantled. The memories of the protests helped the next way of soldiers: In 1944, Congress drafted the GI bill.
Photo via Wikipedia.