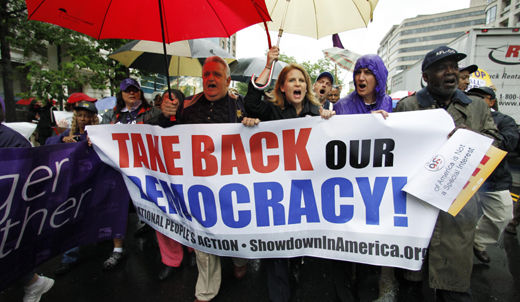 On the heels of a new survey that finds young workers even worse off this year than they were last year, the AFL-CIO is stepping up a program it hopes will eventually bring the Y generation into the labor movement.
The new study, an update to the federation's 2009 survey, shows young workers are more likely to be working part-time, if at all, and have less to fall back on than they did just last year.
Fifty two percent of young workers said they have enough saved to cover living expenses for two months or more, compared with 60 percent in 2009.
Sixty percent said they were worried about their futures, compared with 41 percent last year.
Many also said they expected that they will not do as well as previous generations when they reach retirement age.
The AFL-CIO study echoes reports from countries all over the world that say youth unemployment in those places is also at record levels. The international union movement has been calling upon world leaders to make jobs the highest priority.
"In these tough economic times, young workers need more than ever to know the value of collective action and belonging to a union, AFL-CIO Secretary-Treasurer Liz Shuler said at a press conference Oct. 13. Shuler is in charge of the AFL-CIO's outreach to young workers.
It was clear from her remarks to reporters that the federation is taking seriously the problem of how to involve youth. "Young worker outreach is key to labor's potential and we have to be creative and deliberate," she said. "With the economy being what it is, young workers feel disenfranchised and it's up to us to take on this work and move it forward."
Shuler told reporters that the AFL-CIO will establish a National Young Worker Advisory Council in this fall and winter to advise the federation's executive council on the short-term and long-term goals of the young workers' outreach program.
She also said the federation will develop a mentoring model for bringing experienced union leaders and young workers together in groups that can learn from each other.
She noted that many young union members are involved in labor's 2010 mid-term election mobilization.
Photo: AFL-CIO Secretary-Treasurer Liz Shuler, center, joins protestors as they march in Washington, May 17, during a rally against Wall Street and corporate and anti-immigrant lobbyists. Manuel Balce Ceneta/AP