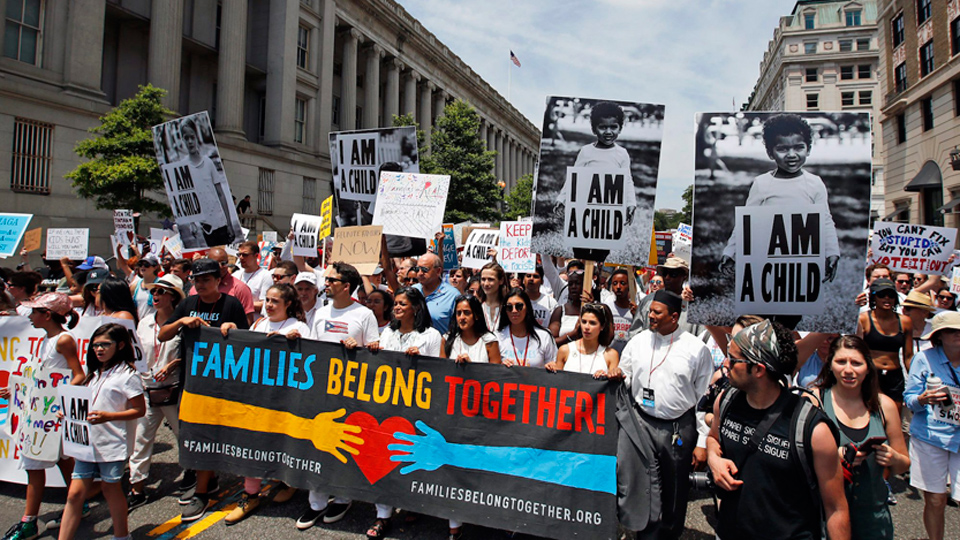 WASHINGTON—Urged on by the leaders of labor's constituency groups – representing African-Americans, Latinos, women, Asian and Pacific Americans and LGBTQ people – unionists turned out in D.C. and 700 other cities on what for most was a hot and sunny June 30 to march for immigrants and against Donald Trump's continuing separation of parents from their kids at the U.S.-Mexico border.
The cause drew thousands to a rally in Lafayette Square here, down the block from the AFL-CIO headquarters.  Tens of thousands then marched down Pennsylvania Avenue. The march was just one of the similar 700 such marches nationwide, the Associated Press reported.
Marches occurred in Alaska, Hawaii, Puerto Rico and everywhere in between.  They were in cities as large as Los Angeles, Chicago and New York and towns as small as Antler, N.D., home to 27 people, AP added.
In Chicago as 70,000 overflowed Daley Plaza into surrounding streets a group of grade school kids spontaneously erupted in a heartfelt chant. "No hate, no fear, immigrants are welcome here."
D.C. organizers got a parade permit for 5,000 people. But The Washington Post, later estimated that almost ten times as many showed up. New York's march drew 30,000-plus, parading across the Brooklyn Bridge, accompanied by supportive honks from passing vehicles.
The AFL-CIO's constituency group leaders, the marchers and everyone else made it quite clear that, as far as they are concerned, Trump's policy of – as one sign put it – "kidnapping children from their parents" at the border must stop. Trump allegedly called a halt to it with an executive order the week before, but that didn't satisfy the crowd. The order, organizers said, is full of holes and the separations continue.
Their songs, chants, signs and speeches showed Trump they loudly and unanimously oppose his policy – and him. Many handmade signs were specific. "Deport Trump," read one. "Abolish ICE," the agency whose officers patrol the border and split the families, read many. Mocking Trump's zero tolerance for immigrants for refugees, another read: "Zero tolerance for cruelty."
Trump's order had hedges, and the marchers, in D.C. and elsewhere, don't trust him or his Immigration and Customs Enforcement agents, who have been physically splitting the parents from the kids, then trundling the kids off to what marchers who visited them described as jails near the border.
In response, Trump tweeted support for the agents, and blamed the Democrats for border problems.
ICE rounds up the parents and holds them for immigration violations, or forces them to agree to their own deportation – without being reunited with their kids. Some 2,000-plus kids are still split from their parents. Many of the parents sought asylum from the wars, gang violence and chaos in Central America which endangers themselves and their kids.
"Where are your tolerance for family values now?" another homemade sign in Lafayette Square asked. "Child abduction does not make America great," read another.
"We are united in front of the House of Workers" – the AFL-CIO building – "to say the labor movement stands united with immigrant families, and the labor movement opposes" Trump's deportations, Hector Sanchez, executive director of Labor's Council for Latin American Advancement (LCLAA) told the crowd before they started out.
"As immigrants are under attack, workers are under attack. We are a hypocritical nation that blames everything on immigrants, though entire sectors of our economy depend on the hard work of undocumented workers," he added. "We don't have a system to give them the rights and respect they deserve. Ya basta!" Some other speakers were more pointed.
"Our country cannot stand for little kids being separated from their parents," said AFL-CIO Executive Vice President Tefere Gebre, himself a political refugee years ago from war-torn Ethiopia. "Our country cannot stand for two million people being locked up in our jails.
"Yes, we should march and rally and protest, but if we don't organize, we'll be in the same place" as now, he warned.
But anti-immigrant, anti-black, anti-brown policies didn't start with Trump, said Liz Powell, the Postal Workers Secretary-Treasurer and representative of the Coalition of Black Trade Unionists. She reminded the crowd that slave children were torn from their parents before the Civil War. That carnage included "my ancestors," added United Food and Commercial Workers Vice President Robin Williams.
Recalling ICE raids in Ohio that rounded up more than 150 workers – members of the Retail, Wholesale and Department Store Union, a UFCW sector – the week before, Williams added: "Our families are not political bargaining chips." Those parents were hauled away, leaving scared kids home alone.
"What is happening is illegal, immoral and wrong," declared Elise Bryant, president of the Coalition of Labor Union Women. As head of the D.C. Labor Chorus, Bryant alternated between speaking and leading the crowd in pro-immigrant and pro-worker songs and chants.
Then she added, quoting U.S. founding documents: "It is we the people, not the white males in the White House who formed the union, and not to give the blessings of liberty, but to ensure the blessings of liberty."
"ICE and DHS" – the Department of Homeland Security, it's parent agency – "didn't exist before 9/11," said Sookyoung Oh, a Korean-American representing APALA, the fed's group for Asians and Pacific Islanders. "We can abolish them now." Oh compared the jailing of the kids to the forced deportations, to the interior of the U.S., of Japanese-Americans during World War II.
And, apologizing in advance for her language, Oh added: "Civility will get us fucking nowhere."
"We're here because we're mad as hell," said Jerame Davis, executive director of Pride at Work, the federation's LGBTQ constituency group. "Families belong together: Immigrants, refugees and LGBTQ families as well." Those LGBTQ families seeking asylum at the border, fleeing societies that are hostile and repressive, also see parents split from kids, he noted.
One speaker in Lafayette Square, a former Montana Labor Department worker, challenged the ICE agents and other colleagues – from file clerks to immigration judges – to stand up right now and defy Trump's policies. He said he could not agree to draft rules to have his department turn over people to ICE, so he resigned in protest, and now campaigns for those whom ICE arrests. ICE, he said, was practicing outrageous and unnecessary cruelty.
"I had seen ICE agents dumping water onto the desert," the Montanan added. They did so "knowing it would condemn the families (dying of thirst on their long trek) to death." He took his concerns to state Gov. Clark Bullock, and asked Bullock to distribute a "know your rights" statement to migrant families ICE rounded up. Bullock, who is a Democrat, refused. "Vote him out!" the crowd chanted.
Several speakers, including Gebre and Sanchez, said the marchers nationwide would remember in November. So did hand-lettered signs in Lafayette Square.
"We want to send a message to the president across the street: Your days are up! We have to tell Donald Trump 'You are out!'" Gebre said.  "We are going to mobilize now through the election and now through 2020 to elect leaders who really represent our nation," Sanchez said.
"The whole world is watching," said Williams, resurrecting a chant by anti-war protesters 50 years ago. "And progress will not wait."