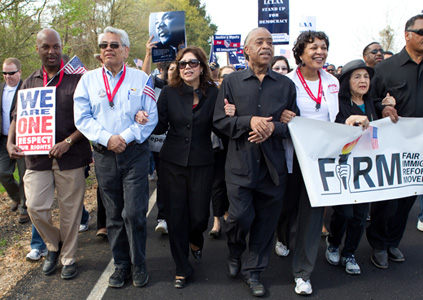 PHILADELPHIA – The labor movement is celebrating its ties to the civil rights movement here this weekend as the AFL-CIO gathers to honor Dr. Martin Luther King Jr.
The gathering will be kicked off by AFL-CIO Vice President Arlene Holt Baker who played a key role in organizing the labor movement's efforts to protect voting rights this year. Unions were at the forefront of challenges to the GOP push to reduce voter turnout in working-class and minority communities across the country.
This is the 50th anniversary of the historic 1963 March on Washington that saw hundreds of thousands descend on the nation's capital and cry out for civil rights.
This year's conference, "We are One: Workers' Rights and Civil Rights," takes place in the first month of the second term of Barack Obama, the nation's first African American president.
Workshops ar the conference will also focus on the fight for jobs. "We will examine what unions have done and must yet do to expand voting rights and democracy in the public sphere but also at the workplace as well," Holt Baker said.
On Sat., Jan. 19, a rally at the Independence Visitor Center in Philadelphia will kick off at 10 a.m.
Among the speakers will be leaders in the fight against the attacks on the labor movement underway in states like Ohio, Wisconsin, Indiana and Michigan.
Philadelphia Council AFL-CIO President Patrick Eiding, Holt Baker, AFT President Randi Weingarten, AFSCME President Lee Saunders and the Rev. Al Sharpton will be among the speakers.
Photo: In 2012, thousands re-tracing the steps of those who made the historic 1965 march from Selma to Montgomery, Ala. ended their five-day journey by converging on the Alabama state capital. They marched again in 2012, they said, to demand an end to Republican-led attacks around the country on voting rights, workers rights and immigrant rights. CC BY 2.0