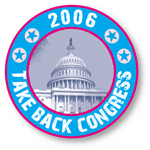 'Working families are very dissatisfied with the direction our country is going'
Organized labor and its allies launched a massive, nationwide get-out-the-vote drive in the final days of the midterm election as polls showed many tight races certain to be decided by voter turnout.
William Burga, president of the Ohio AFL-CIO, told a Nov. 1 telephone news conference that millions of Ohio voters, disgusted by Republican-dominated government at both the federal and state level, were turning toward the Democratic challengers.
"Two issues are affecting the election in Ohio," Burga said. "The failure of the state or federal government to enact an increase in the minimum wage, and the corruption in this state. You have one-party rule and all of a sudden you have corruption … federal corruption as well as state corruption." Labor, he said, put an initiative on the ballot to raise the state minimum wage, likely to increase the voter turnout.
The AFL-CIO's political action director, Karen Ackerman, said the labor federation was working in 175 races across the nation, reaching millions of union households in the final four days. In door-to-door canvassing, in shop floor discussions and phone-banking, she said, "We are seeing a rejection by working families of the Bush agenda, exporting jobs, undermining job security. … This year it is really about turnout and not persuasion. Working families are very dissatisfied with the direction our country is going."
So far, the labor movement has conducted 500 "labor walks" across Ohio, speaking to 280,000 people. Over 3.5 million flyers have been distributed and 3 million phone calls have been made in Ohio alone. "In close races, labor's vote will make the difference," Ackerman said.
Karl Rove's vaunted "72-hour" get-out-the-vote machine is not working this time, she commented. "The Republicans are having serious problems with their base vote. When we go and knock on doors of union and non-union households, there is a deep cynicism and rejection of the war [in Iraq] and the economic insecurity families are facing."
Karen Nussbaum, director of the AFL-CIO-affiliated Working America, said hundreds of volunteers have focused on Ohio's suburbs and exurbs. "What we are hearing is that people who have been lifelong Republicans are very concerned at the direction of the country on health care, jobs, the war," she said.
The fight to end Republican control is not limited to the labor movement. Actor Michael J. Fox galvanized millions of voters with his television ads in support of embryonic stem cell research. Fox's body, wracked with Parkinson's disease, flailed as he urged voters to cast their ballots for Democratic Senate candidates Claire McCaskill of Missouri and Ben Cardin of Maryland.
Rush Limbaugh drew wide criticism when he snarled on the air that Fox "is either acting or off his meds." Sean Tipton, president of the Coalition for the Advancement of Medical Research, told the World, "With Michael Fox, everyone feels like they have a family member with Parkinson's. No one likes it when a bully picks on a member of your family. Strictly in terms of electoral considerations, Rush Limbaugh made a huge mistake. He played his role as a provocateur. Embryonic stem cell research was the subject of President Bush's only veto so it is not surprising it is an important election issue. What we are seeing in this election is a chance for voters … to express their opinion on stem cell research."
Another burning issue is college affordability. In a telephone news conference sponsored by the U.S. Public Interest Research Group, Oct. 31, pollster Celinda Lake said a recent US-PIRG poll found that 40 percent of voters believe Democrats would do more to make a college education affordable compared to only 11 percent who thought Republicans would.
Paying for a college education is the second highest expenditure people face after purchasing a home, Luke Swartout, PIRG's coordinator on the issue, told the news conference. With tuition rates soaring, Pell Grants frozen and guaranteed student loans more expensive, college is beyond reach for millions, he said. "It is one of the key pocketbook issues that will motivate voters."
Trevor Montgomery, an undergraduate at the University of Illinois, Chicago, said the soaring cost of tuition, room and board and books is the "most pressing issue" students raised with him while he was serving as president of student government. "Sadly, last year, when the state budget was submitted, these costs were totally ignored. Students are talking about it in their classrooms, over lunch. Families are discussing it over the dinner table."
David Hicks, 37, a college graduate living with his wife and children in Evansville, Ind., said his federal student loans are so high and his income so modest he has struggled to stay out of bankruptcy. "The loan repayments are higher than my mortgage," he said. "I will pay off my mortgage before I pay off our student loans. I will be 54 before I pay it off. I voted for a Republican in the last election. But the issues I and my family face are not being addressed by the candidates."