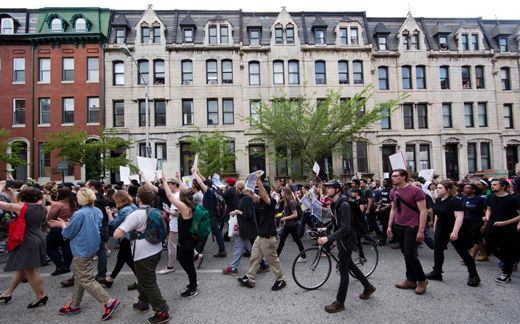 BALTIMORE – Frederick Douglass high school students were arrested during the early protests against the police killing of Freddie Gray here so it was with particular symbolism that the A. Philip Randolph Institute and the AFL-CIO chose this site to announce Forward Baltimore, a non-partisan campaign to register 10,000 new voters.
The campaign will hold itself accountable to bring out at least 75 percent of these newly-registered voters in for the primary elections in Maryland in April, 2016.
Gathered together by Dr. Lorretta Johnson, president of the A. Philip Randolph Institute in Baltimore, a crowd of media and local legislators heard from leaders of the Baltimore Teachers Union (BTU), the Maryland and District of Columbia AFL-CIO, the Baltimore Metropolitan Council of the AFL-CIO, AFSCME, the Union Baptist Church, AFGE Local 1923, ATU Local 1300, the Alliance for Retired Americans MD/DC Chapter, the "I Can't, We Can" drug treatment center, AFSCME Council 3, 1199 SEIU and Communities United.
Each spokesperson made a statement of "deliverables," the resources that his or her group would bring to this initiative. The resource most frequently promised was "people" to perform a variety of jobs including knocking on doors, tabling at voter registration booths, and mobilizing to bring out the newly-registered voters in the 2016 primary elections.
Several of the speakers had graduated from Frederick Douglass High School, symbolizing how much some have achieved against great odds in Baltimore. Labor and community leaders who are either home-grown or have made Baltimore their home, now see a next step in turning Baltimore into a voting city instead of one where only 13 percent of the voters participated in the last mayoral election.
Marietta English of the teachers' union spoke of spending a lot of time at the school over the last week of the uprising. "We must fight against mind numbing work," while engaging young people to finish their education and get jobs.
Speaking about voter registration, Cynthia Ennis of AFGE declared, "If you are 18 through 30, we are coming after you!" This age group is vastly under-represented on the voter rolls in Baltimore.
Glen Middleton, executive director of AFSCME Council 67, said that the popular Captain Hughes on Radio One show will be publicizing the Forward Baltimore push.
Israel Cason, president and founder of the northwest Baltimore center, "I Can't, We Can" talked about the "mess" the city is in: "Adversity is always keeping us down. We should be focused on every single eligible voter, not just the 18-30 age group, and we must include ex-felons" he said.
Antoinette Turner, speaking for SEIU, reminded the audience that their members are accustomed to doing what they call "knock and drag," door knocking and then bringing people to the polls.
Jane Henderson, director of Communities United in Baltimore, reinforced that point. She explained that Maryland will allow same day registration with early voting for the first time in 2016, and because of progressive legislation is also increasing the number of early voting sites. This is a 'huge opportunity' because registration and voting can be accomplished in one trip, linking the registration immediately to the act of voting.
Jim Baldridge, president of the Association of Retired Americans MD/DC, warned that the "right to vote is in mortal danger." He pointed out that the Supreme Court in 2013 overthrew decades of Department of Justice governance covered by the Civil Rights Act of 1965, and within two days, six of the nine covered states announced new restrictions on voting, including ID laws, the end to same day registration, decrease in early voting options, etc.
The next action announced is a May 30, 2015 – a field day for voter registration.
Photo: One of many peaceful protests that took place in Baltimore after the killing of Freddie Gray and before the announcement by the State Attorney of the filing of charges against police. | Matt Rourke/AP