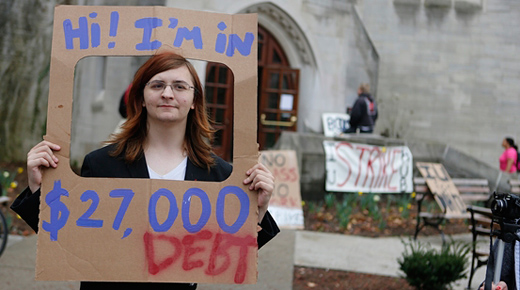 WASHINGTON – More than 40 million Americans are buried under a $1.3 trillion mountain of student loan debt but have limited resources and lack affordable assistance to help repay their loans. To help these borrowers manage their debt, apply for government programs, and enforce their legal rights, a group of labor unions, consumer advocacy, youth and student debt relief organizations are creating a website and holding a free three-day hotline. The website and the hotline will operate as a triage system to inform borrowers of what their available options are and provide resources such as referrals to student loan attorneys and vetted credit counselors.
Who: A large coalition of labor, youth advocacy and student debt relief organizations. For a full list of sponsoring organizations, click here.
What: Free Student Debt Assistance Website and Hotline
How: Visit www.theborrowers.org to get free resources and sign up for the hotline to help lower their monthly payments.
When: The hotline will operate on May 19-20 from 9 a.m. – 10 p.m. ET and on May 21 from 9 a.m.-3 p.m. ET
Why: Only 25 percent of eligible borrowers have taken advantage of federal resources to get favorable loan repayment options and far too many fall prey to predatory debt relief companies and scams. Driven by the belief that no one should pay for FREE government services, the coalition created The Borrowers Hotline to help all student loan borrowers who are in desperate need of assistance.
The groups behind the hotline are also urging the Department of Education to create a system to help borrowers better navigate the many programs that are available to help.
Photo: AP