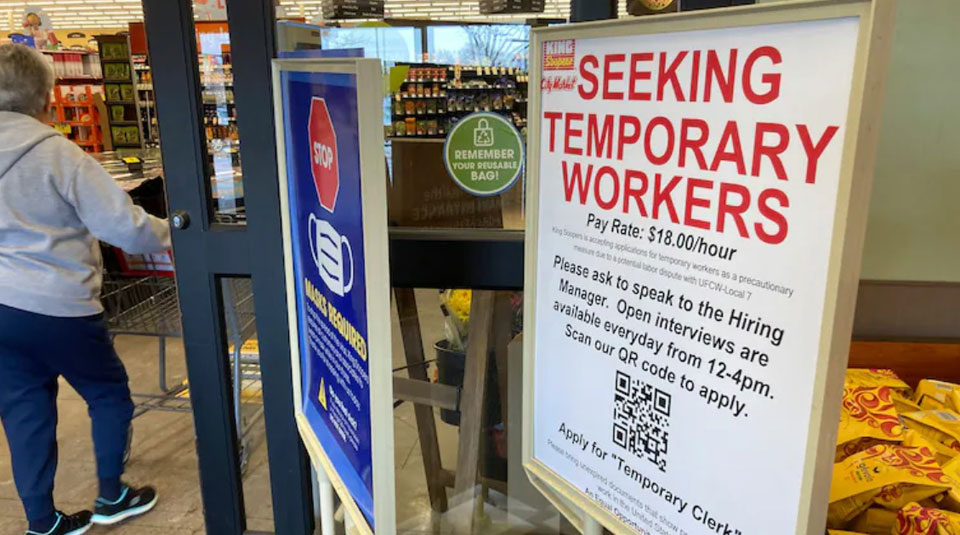 DENVER —Labor law-breaking by the King Soopers chain and at City Market, both Kroger subsidiaries, forced 8,400 grocery workers in Colorado into an unfair labor practices—company labor law-breaking—strike, starting at 5 a.m. on January 12.
The workers, members of United Food and Commercial Workers Local 7 are also at loggerheads with the bosses over pay and working conditions, and the companies refused to bargain. The firms demanded federal mediation, instead.
Another big problem, union President Kim Cordova said, is unsafe conditions in the stores, short-staffed due to the coronavirus pandemic. Stores had to close departments. Upset customers in turn took their frustrations out on the remaining workers.
"The companies were thriving, but our workers didn't thrive. Know what our workers got? Covid. Attacked. Beat up. Spit on. Slapped. Overworked. And the company? They did great. They did absolutely great, sitting behind their desk doing their job by Zoom," Cordova said in a statement. Kroger's reported record profits in 2020, its most-recent full-year data.
And while Kroger initially gave all its workers, including the Coloradans, $2 hourly extra in hazard pay when the pandemic was first officially announced in March 2020, the firm yanked it after a month and a half—though the hazards remain.
The Colorado grocery workers are the latest group of increasing legions of low-paid, exploited "essential" employees who were praised as the pandemic began, but not rewarded for putting their health, and sometimes their lives, in danger to serve others.
Realizing the pandemic gives them leverage, tens of thousands of such workers have unionized, been forced to strike, walked out, or, more recently just plain quit to take better jobs where they're better paid and more frequently protected against the rampaging plague.
Kroger offered new starting pay of $16 an hour to the workers, claiming it was a big hike over what they now make. Cordova points out that figure is barely above Denver's minimum wage, now $15.87. The statewide minimum is $12.56.
And signs outside supermarkets declare the grocers are offering temp workers $18 an hour. Those signs were photographed on January 6, two days before the old contract expired.
Local 7 posted a graphic on its Twitter feed with suggestions for shopper solidarity. "Shop elsewhere. Until this strike is resolved, please consider an alternative," it reads. The graphic also urges customers to spread the message on social media, seeks donations to the workers, and wants people to join the workers on picket lines.
Customers sent the union supportive tweets in the forced strike's initial hours.
"How do I get a yard sign?" one unidentified tweeter asked. "My grandparents were union employees for 30+ years. Always support workers' rights!"