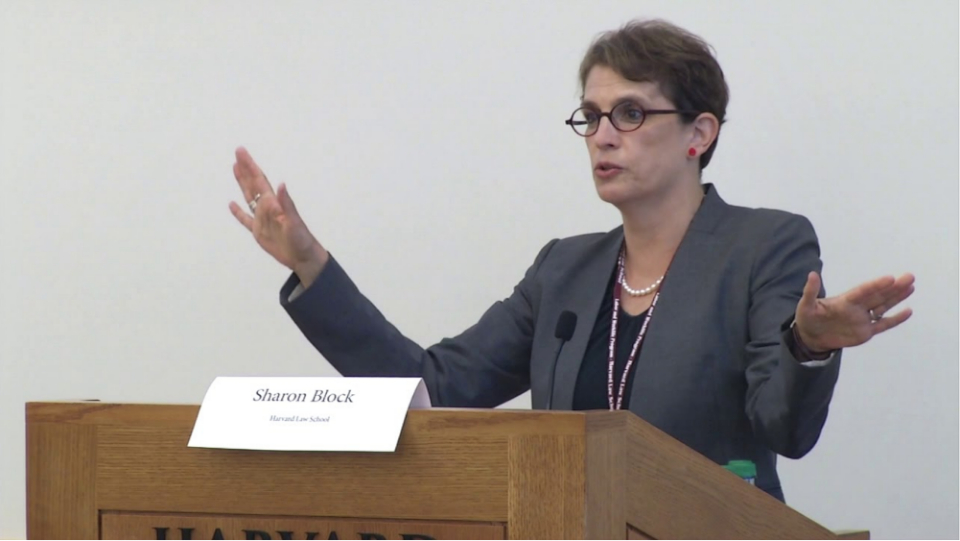 WASHINGTON (PAI)—In yet another indication of the importance of unions to workers, a top labor law expert reports the same states with high union density, high wages, and paid family and medical leave are the states that protect the right to abortion—even after the Supreme Court declared that unconstitutional nationally.
And vice versa, adds Sharon Block, a former National Labor Relations Board member, top Biden administration staffer in the Office of Management and Budget, and an ex-aide to the late pro-worker stalwart Sen. Edward M. Kennedy, D-Mass.
The same states where "employers are free to pay a sub-poverty minimum wage and deny paid leave even when workers' lives or the lives of their family members depend on it and where unions have little or no presence in the workplace or the state house" are the states with "the most restrictions on abortion rights," Block wrote in Harvard Law School's OnLabor blog.
The five states with the highest union density—Hawaii, New York, Washington, Oregon, and New Jersey—also have the highest minimum wages, more worker protections, and require firms to offer paid family and medical leave. And all but New York (11.8%) have poverty rates below the national average of 11.2%, she noted.
All protect abortion rights. So does California, which just misses Block's top-five list, at 15.9% union density. It protects abortion rights, now in a compact with Oregon and Washington.
"Put simply, the presence of unions in a state correlates with low-wage workers being economically better able to care for themselves and their families," Block wrote.
"So, what do these statistics have to do with the Supreme Court's decision to reverse Roe v. Wade?" Block asked. The majority's ruling in the case involving Mississippi's only abortion clinic challenging Mississippi's draconian anti-abortion law "dramatically exacerbated another dividing line in our country—access to abortion services. This cleavage in our nation runs along almost exactly the same fault line as the economic one."
Block explained that, except for North Carolina, the states with the lowest union density "now also will ban or greatly restrict access to abortion, and all of the states with the highest union density will continue to protect a women's right to choose."
Block adds union contracts give woman workers the wages and benefits they need—specifically higher pay and paid family leave—if they must travel out of state to get abortions.
"In the short term, women who have union representation can bargain for paid leave and travel expenses if they need to get an abortion," Block wrote. "Workers with collective bargaining agreements are significantly more likely to have access to paid sick leave than those who don't." The News Guild has started drafting model pro-abortion contract language.
"They also can bargain for maternity leave and other family supports if they choose to have a child. In the long term, raising union density builds power so workers in low-wage, abortion-denying regions can change their states' laws to raise living standards and even reverse post-Roe abortion bans and restrictions," she wrote.
The five Republican-named justices who outlawed the constitutional right to abortion—Clarence Thomas, Samuel Alito, Amy Coney Barrett, Neil Gorsuch, and Brett Kavanaugh—let loose those state restrictions at the same time. Some took effect immediately, while others were temporarily halted by lawsuits filed in state courts, notably in Utah.
Still, the High Court's June 24 ruling is expected to strip abortion rights from tens of millions of women now and millions more in the future. That prospect brought hundreds of thousands of people into the streets, including at the court, starting that day and continuing.
It also led to outrage from abortion rights supporters, including the AFL-CIO and many major unions. Several, led by federation President Liz Shuler, warned the justices won't stop with an abortion ban. They cited Justice Thomas's comments about other rights, including to contraception, consensual homosexuality, and gay marriage.
Other union leaders said worker rights are threatened, too.
Block pointed out the virtually identical lists of the top five states that support workers, their union rights, their benefits, and their pay also support abortion rights. The bottom five that don't, with one exception, are the most restrictive on abortion, and not just legally either.
"The states with the lowest union density generally have the lowest possible minimum wage, no state-mandated paid sick or family leave, and poverty rates above the national average. Conversely, states with the highest union density generally have among the highest minimum wage levels in the country, ensure access to paid sick or family leave, and have lower-than-average poverty rates," she noted.
And the combination also means the low-wage, no-leave, anti-union states not only ban their women from getting abortions but make it financially difficult, if not impossible, for the women to afford travel to states where abortion will still be available.
All but one (Arkansas) of the five states with the lowest union density—South Carolina, North Carolina, Utah, Tennessee, and Arkansas—also use the federal minimum wage of $7.25 hourly as their state minimum. None have paid family and medical leave. All except Utah have poverty rates above the U.S. average, Block noted.
"I'm not naïve," Block concludes. "Building union density in the Southern states where union density is now the lowest is not an easy or short-term project. But in the face of Dobbs, it has taken on a new saliency and urgency. Now, millions of women's lives depend on a strong labor movement in all of America."