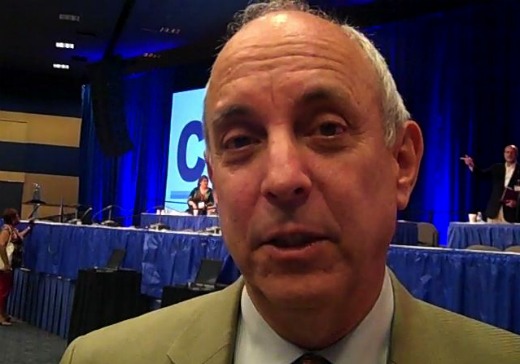 In a quick interview after the Communications Workers of America convention, CWA President Larry Cohen talks about the union's message to America, bringing the troops home from Iraq and Afghanistan and endorsing President Barack Obama. (Video below).
President Obama addressed the union's convention via video, congratulating them on two major union victories at Charlotte, N.C.-based Piedmont Airlines (3,000 workers) and flight attendants at United/Continental (about 25,000 workers). He also renewed his commitment to workers' right to form a union and bargain collectively.
Major CWA campaigns include organizing T-Mobile workers, and negotiating a good contract for Verizon workers. The convention elected its leadership, passed resolutions for action, including on organizing young workers, opposing cuts to Social Security, challenging voter ID (suppression) laws and the Colombia-U.S. Free Trade pact. Much attention was given to the state-level fights unfolding including, Wisconsin, Ohio, Florida and New Jersey.